Team AB Identification, Selection, and Training processes and programs are currently being reviewed. 2024 Team AB Information will be updated by Dec. 1st, 2023
The goal of our provincial team program is to identify athletes who have the potential to develop and reach the next levels in our sport. This would include post-secondary, National Team programs and professional leagues. We aim to help develop an athlete's technical, tactical, physical and psychological skills by exposing them to enriched levels of training and competition.
Team AB is also used to identify coaches with potential to coach in a high-performance stream. To mentor, develop and educate coaches in a high-performance environment.
The Team Alberta program provides opportunities for athletes and coaches to build their, competence, character, confidence and leadership and to encourage them to reach the highest levels in our sport. We hope to prepare them for participation and success at events such as Western Canada Summer Games, Canada Summer Games, and Canada Cup, and also as they move ahead to post-secondary and National levels of competition.
Key Info and Dates 2024
Coming soon!
Please mark highperformance@volleyballalberta.ca as safe in your email browser to receive future program info via email!
Athletes born in September 2006 or later*. Athletes within the 16-month window AND in the same grade level as the program year (Grade 11) will be given the most consideration for eligibility for this program.
Physical Profile of a Team Alberta Athlete
The goals of our program cannot necessarily be met by simply examining the most skilled athletes at each level. Identified athletes need to have the size and athleticism that are essential for success at the higher levels. Volleyball skills can be further refined as athletes get exposure and practice within our sport.
Our High Performance Committee has researched and evaluated physical testing results from numerous sources to understand the base physical performance levels that athletes should possess for continued success in our sport.
17U Male Team Alberta Athlete- Physical Profile (with recommended standards)
Standards updated by the High Performance Committee in October 2019
| | | | | |
| --- | --- | --- | --- | --- |
| Position | Reach | Block Jump | Spike Jump | Pro-Agility (seconds) |
| Setter | 241 cm (7'11" = 95″) | 300 cm (9'10" = 118″) | 312 cm (10'3″= 123″) | 3.5 |
| Middle | 249 cm (8'2″= 98″) | 305 cm (10'= 120″) | 330 cm (10'10″= 130″) | 3.5 |
| Outside | 241 cm (7'11" = 95″) | 302 cm (9'11" = 119″) | 327.5 cm (10'9″= 129″) | 3.5 |
| Libero | | | | 3.5 |
Please note: These standards are not the sole factor in athlete identification or selection. Athletes also need to demonstrate potential to be an elite athlete, a willingness to learn, a great attitude, decision making and leadership skills.
Previous Identification/Program Pathway for 2023
Please note this pathway may differ slightly for 2024, please check back for updates after Dec. 1st
Club Coaches will receive an email asking for their athlete recommendations after the Premier 1 roster lock deadline.
Recommended athletes will be invited to do the physical testing. The tests conducted will not impact athlete performance at Premier #2; conducted tests include weight, height, seated height, standing reach, wingspan, grip strength, vertical jump (block, spike), Pro-Agility test. Team Alberta coaches will receive the list of the athlete recommendations and testing results to begin their evaluations at the Premier events.
Based on testing results and performance at Premier Events & Provincial Championships, athlete will be extended an offer to attend Team Alberta Selection Camps.
Volleyball Alberta will provide Volleyball Canada with a list of our top athletes for the VC Selection Committee to consider when selecting their Youth & Junior National Teams.
Team Alberta Coaches will select 12 competition athletes and up to 2 Training athletes at the end of Selection Camp #2 to join the Team Alberta Summer Program (for more information, please refer to the 2020 Team Alberta- Athlete Selection Policy).
Financial Assistance Program
Athletes in financial need can apply to Volleyball Alberta for assistance via the Hugh Hoyles Scholarship Fund.
Below is a list of other scholarships, grants, and programs that athletes may apply for:
Kid Sport Alberta: KidSport is a national not-for-profit organization that provides financial assistance for registration fees and equipment to kids aged 18 and under
JumpStart: Jumpstart funding helps families that need a financial hand with registration, equipment and/or transportation costs.
For more information on the Team Alberta program, please contact Ben Saxton at highperformance@volleyballalberta.ca or call 780-415-1703 ext. 8
Team AB Past Rosters and Results
2023 Team Alberta Competition Teams
2023 Canada Cup – ISET Scedules/Scores/Teams
| | |
| --- | --- |
| 17U Boys | |
| 7 | Cole Czepuryk |
| 9 | Cooper Bourke |
| 4 | Drew Dykstra |
| 8 | Ethan Field |
| | Evan Linder |
| 10 | James Keenan |
| 14 | Leks Symes |
| 11 | Marek Janutka |
| 3 | Nick Billo |
| 15 | Owen Harris |
| 12 | Parker Bailey |
| 5 | Wyatt Hall |
| Alternate | Cole Barlage |
| Alternate | Mason Doering |
| Alternate | Spencer Ingram |
| coach | Craig Wourms |
| coach | Kyle Erickson |
2022 Team Alberta Competition Team
Results: Canada Cup, Div 1 Championship Gold Medal
17U Team Alberta Men
1 – Edward Anderson
2 – Kolton Rawlusyk
3 – Ryder Turne
4 – Grant Hill
5 – Marshall Qually
6 – Owen Harris
7 – Cody Hudson
8 – Kale Fisher
9 – Grayson Jarrett
10 – Mitchell Aalbers
11 – Ryan John
12 – Kale Orr
13 – Noah Rigney
14 – Tucker Cacic
15 – Ronan Huth
Head Coach – Jordan Taylor
Assistant Coach – Shane Barr
2021 Team Alberta Training Centre
Calgary Training Centre Athletes
Head Coach: Paul Armbruster, Assistant Coach: Emmitt Juul-Hansen
| | |
| --- | --- |
| Athlete Name | Position |
| Alex Bazhanov | Libero |
| Nicholas Bazhanov | Setter |
| Boris Berbic | Outside Hitter |
| Ethan Church | Setter |
| Ethan Czepruyk | Middle |
| Josh Dueck | Middle |
| Garrett Harvey | Middle |
| Ben House | Outside Hitter |
| Tate Howell | Outside Hitter |
| Kyle Phillipson | Libero |
| Victor Secches Reis | Outside Hitter |
| Cade Smith | Outside Hitter |
| Ashton South | Middle |
| Noah Verhoef | Setter |
| Tom Vos | Outside Hitter |
Edmonton Training Centre Athletes
Head Coach: Vinny Saporito, Assistant Coach: Kyle Erickson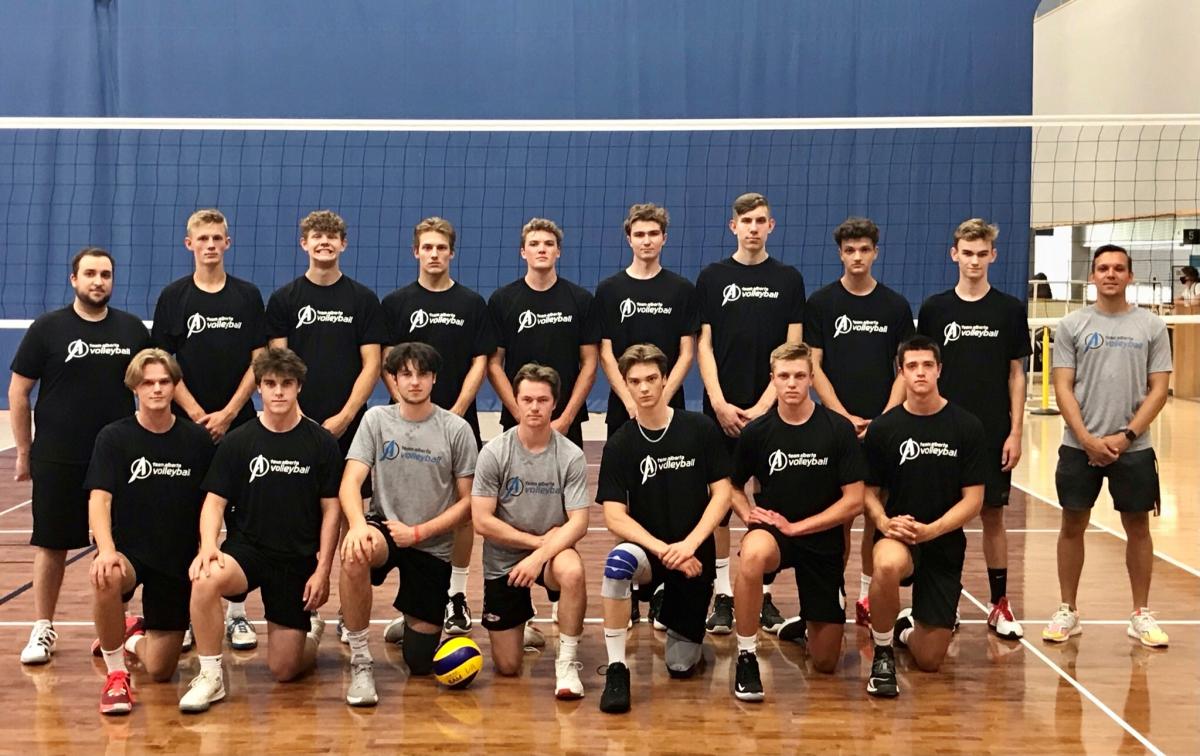 | | |
| --- | --- |
| Athlete Name | Position |
| Seth Birkholz | Middle |
| Anders Bouck | Setter |
| Pierce Decore | Outside Hitter |
| Brett Johnson | Libero |
| Sean Kaliel | Outside Hitter |
| Kyle Licis | Middle |
| Brendon Lord | Outside Hitter |
| Jack Mallett | Middle |
| Carter McDonald | Middle |
| Rhees Moss | Setter |
| Emmett Neuls | Outside Hitter |
| Jayden Scheel | Outside Hitter |
| Jack Semonis | Outside Hitter |
| Luke Weddell | Setter |
| Aiden Wright | Outside Hitter |
2019 17U Team AB Roster
| | | |
| --- | --- | --- |
| # | Athlete Name | Position |
| 1 | Sean Robertson | Setter |
| 2 | Ryan Wasylyshyn | Libero |
| 3 | Colby Nemeth | Outside Hitter |
| 4 | Josh Gagnon | Outside Hitter/Libero |
| 6 | Erik Godwin | Outside Hitter |
| 7 | Zach Lobdell | Outside Hitter |
| 8 | Cody Noble | Middle |
| 9 | Felix Dufour | Outside Hitter/Middle |
| 10 | Taylor Wenzel | Setter |
| 11 | Joel Nickel | Outside Hitter |
| 12 | Chris Bryant | Middle |
| 15 | Carsten Bergeron | Middle |
| 5 | Keegan Hanrahan (alternate) | Middle |
| 16 | David Kindley (alternate) | Setter |

| | | |
| --- | --- | --- |
| # | Athlete Name | Position |
| 3 | Olamide Ajayi | Outside Hitter |
| 5 | Griffin Butler | Outside Hitter |
| 14 | Noah Carlson | Outside Hitter |
| 1 | Tyler Chernishenko | Libero |
| 4 | Nash Shipton | Setter |
| 8 | Jack Cochran | Setter |
| 6 | Tyler Funk | Outside Hitter |
| 13 | Colby Lindseth | Middle |
| 15 | Corbin Ockerman | Middle |
| 7 | Maxim Turgeon | Middle |
| 9 | Jacob Van Geel | Outside Hitter |
| 11 | Jens Watt | Outside Hitter |
| 2 | Callum Campbell (alternate) | Outside Hitter |
| 10 | Kobby Nyarko (alternate) | Outside Hitter |