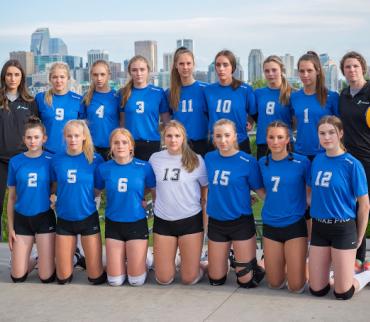 Featuring over 40 teams from 9 provinces and territories, the 2019 Canada Cup tournament is being hosted in Halifax, NS from July 18-21, 2019. Alberta will have seven teams competing at the event.
To follow the 2019 Canada Cup, go to the ISET Sports website and obtain the latest news, results, schedules, participating teams, and more.
Volleyball Canada is excited to provide a live stream for Courts 1 -6 (located at the Dalplex).
The schedule/results for Alberta teams is below:
Thursday July 18
Canada Cup Men Division 1
9:00 am (Moutain Daylight Time): Team AB 17M (3) vs. Team SK Youth White (2)
4:00 pm (Moutain Daylight Time): Team AB 17M (3) vs. Team Quebec 1 (0)
Canada Cup Women Division 1
7:30 am (Mountain Daylight Time): Team AB 17W (3) vs. Team Quebec 1 (0)
4:00 pm (Moutain Daylight Time): Team AB 17W (1) vs. Team BC Selects (3)
Canada Cup Men Division 2
5:30 am (Moutain Daylight Time): Team AB Black (3) vs. Team New Brunswick (0)
7:30 am (Moutain Daylight Time): Team AB Blue (3) vs. Team PEI (0)
2:30 pm (Mountain Daylight Time): Team AB Black (0) vs. Team Manitoba Youth (3)
4:00 pm (Mountain Daylight Time): Team AB Blue (3) vs. Team SK Selects White (0)
Canada Cup Women Division 2
5:30 am (Moutain Daylight Time): Team AB Black (3) vs. Team BC Blue (1)
5:30 am (Moutain Daylight Time): Team AB Blue (3) vs. Team NFLD (0).
7:30 am (Moutain Daylight Time): Team AB 15 (0) vs. Team Quebec 2 (3)
11:00 am (Mountain Daylight Time): Team AB Black (3) vs. Team New Brunswick (1)
11:00 am (Mountain Daylight Time): Team AB Blue (3) vs. Team Manitoba Selects (0)
12:30 pm (Mountain Daylight Time): Team AB 15 (1) vs. Team PEI (3)

Friday July 19
Canada Cup Men Division 1
11:00 am (Mountain Daylight Time): Team AB 17M (3) vs. Team Atlantic (0)
4:00 pm (Moutain Daylight Time): Team AB 17M (3) vs. Team Ontario Red 1 (0)
Canada Cup Women Division 1
7:30 am (Moutain Daylight Time): Team AB 17W (1) vs. Team SK Youth Green (3)
2:30 pm (Mountain Daylight Time): Team AB 17W (3) vs. Team BC Red (1)
Canada Cup Men Division 2
5:00 am (Mountain Daylight Time): Team AB Blue (3) vs. Ontario Red 2 (0)
7:00 am (Mountain Daylight Time): Team AB Black (3) vs. PEI. (0)
10:30 am (Mountain Daylight Time: Team AB Blue (3) vs. BC Blue (1)
12:00 pm (Mountain Daylight Time: Team AB Black (3) vs. Sask Selects Green (0)
Canada Cup Women Division 2
5:30 am (Moutain Daylight Time): Team AB Black (3) vs. Team ON Red 2 (0)
5:30 am (Moutain Daylight Time): Team AB Blue (3) vs. Team SK Selects Green (1)
7:30 am (Moutain Daylight Time): Team AB 15 (0) vs. Team ON Red (3)
12:00 pm (Mountain Daylight TIme): Team AB Black (2) vs. Team Alberta Blue (3)
12:00 pm (Mountain Daylight TIme): Team AB 15U (3) vs. NWT (0)

Saturday July 20
Canada Cup Men Division 1
7:00 am (Moutain Daylight Time): Team AB 17M (2) vs. Team BC Red (0)
1:00 pm (Mountain Daylight Time): Team AB 17M (2) vs. Team BC Selects (3)
Canada Cup Women Division 1
7:30 am (Moutain Daylight Time): Team AB 17W (2) vs. Team Atlantic (0)
3:00 pm (Mountain Daylight Time: Team AB 17 (1) vs. Team ON Red (3)
Canada Cup Men Division 2
5:00 am (Moutain Daylight Time): Team AB Black (3) vs. Team Quebec 2 (0)
7:00 am (Moutain Daylight Time): Team AB Blue (1) vs. Team Manitoba Youth (3)
12:00 pm (Mountain Daylight Time): Team AB Black (2) vs. BC Blue (0)
Canada Cup Women Division 2
5:00 am (Moutain Daylight Time): Team AB Blue (2) vs. Team SK Selects Green (0)
5:00 am (Moutain Daylight Time): Team AB Black (0) vs. Team ON Red (2)
6:15 am (Moutain Daylight Time): Team AB 15 (0) vs. Team Manitoba Selects (2)
9:15 am (Mountain Daylight Time): Team AB Black (2) vs. Team BC Blue (1)
10:30 am (Mountain Daylight Time): Team AB 15 (2) vs PEI (1)
10:30 am (Mountain Daylight Time): Team AB Blue (3) vs. Quebec (2)
Sunday July 21
Canada Cup Men Division 1
7:45 am (Moutain Daylight Time): Team AB 17M (3) vs. Team Atlantic (0) – Div 1 Bronze Medal Match
Canada Cup Women Division 1
9:45 am (Moutain Daylight Time): Team AB 17W (2) vs. Team BC Selects (3) – Div 1 Bronze Medal Match
Canada Cup Men Division 2
5:45 am (Moutain Daylight Time): Team AB Black (1) vs. Team AB Blue (3)
11:45 am (Mountain Daylight Time): Team AB Black (2) vs. ON Red 2 (1) – Div 2 Bronze Medal Match
11:45 am (Mountain Daylight Time): Team AB Blue (2) vs. Manitoba Selects (0) – Div 2 Gold Medal Match (Co-Champions due to power outage)
Canada Cup Women Division 2
5:00 am (Moutain Daylight Time): Team AB 15U (0) vs. New Brunswick (2)
7:30 am (Mountain Daylight Time: Team AB Blue (3) vs. ON Red 2 (0) – Div 2 Gold Medal Match
6:15 am (Mountain Daylight Time): Team AB Black (2) vs. Sask Selects Green (0)