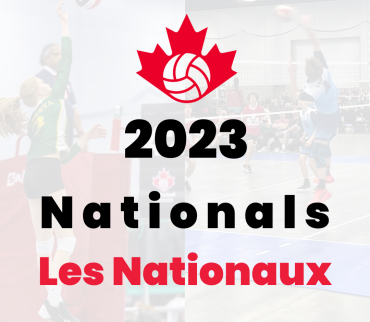 Posted: July 4, 2022
Volleyball Canada announces 2023 Youth Nationals dates
July 4, 2022: Volleyball Canada is proud to announce the dates and locations for the 2023 Youth National Championships, highlighted by a new, nine-day event in Calgary, Alberta.
From May 12 to 21, 2023, Calgary will play host to the 16U girls and all 17U and 18U age groups across three separate tournaments at the Olympic Oval. This marks the first time since 2017 that Calgary has hosted Nationals.
"We are extremely excited to announce that Calgary has been selected as the host city for the 2023 Nationals," said Carson Ackroyd, Senior Vice President of Sales with Tourism Calgary. "This will be one of the largest participant-based events Calgary has ever hosted, bringing an estimated 680 teams to the city in May of 2023.
"This event offers an incredible opportunity to showcase our city's attractions, restaurants, and experiences to approximately 10,000 athletes, coaches, visitors, and officials from across the country and is projected to inject more than $13 million into our visitor economy."
The 2023 Nationals will kick off once again in Ottawa, Ontario, May 4 to 7, 2023 for 14U. This will be followed by an action-packed weekend from May 11 to 14, with Halifax, Nova Scotia and Winnipeg, Manitoba hosting 14U while Edmonton, Alberta will have the 15U and 16U boys. In the third and final weekend, the 15U girls will battle in Regina, Saskatchewan.
"Volleyball Canada is thrilled to be returning to Calgary for the 2023 Nationals," said Sandra de Graaff, Director of Domestic Competitions for Volleyball Canada. "After a successful return to the festival-style event in Edmonton this year, keeping the momentum rolling with this new nine-day event is very exciting."
Also being hosted in 2023 will be the Senior National Championships, after being re-introduced in 2022. More details on the Senior Nationals will be released at a later date.
Volleyball Canada recently wrapped up the 2022 Nationals, recording the largest turnout in Nationals history with 1,042 teams between the Youth and Senior events.
Details on Nationals registration will be released in the coming months.
2023 Nationals Dates & Locations
May 4 – 7:
• Ottawa 14U – Carleton University
May 11 – 14:
• Halifax 14U – Canada Games Centre
• Winnipeg 14U – RBC Convention Centre
• Edmonton 15UB & 16UB – Saville Centre
May 12 – 15:
• Calgary 16UG – Olympic Oval
May 15 – 18:
• Calgary 18U – Olympic Oval
May 18 – 21:
• Calgary 17U – Olympic Oval
• Regina 15UG – Evraz Place
For more information, please see the 2023 Nationals webpage and to receive the latest Nationals updates right to your inbox, subscribe to the Nationals Newsletter.
Volleyball Canada Nationals contact
nationals@volleyball.ca
Volleyball Canada dévoile les dates des Championnats nationaux de la jeunesse 2023
4 juillet 2022 : Volleyball Canada est fier de dévoiler les dates et les endroits des Championnats nationaux jeunesse 2023, qui mettront de l'avant un nouveau format de compétition d'une durée de neuf jours à Calgary, en Alberta.
Du 12 au 21 mai 2023, Calgary accueillera la catégorie 16U féminin ainsi que tous les groupes d'âges 17U et 18U dans le cadre de trois tournois distincts à l'Anneau olympique. Ce sera la première fois depuis 2017 que Calgary organisera des championnats nationaux.
« Nous sommes très heureux d'annoncer que Calgary a été choisie à titre de ville hôte pour les Championnats nationaux 2023, a déclaré Carson Ackroyd, vice-président principal des ventes à Tourisme Calgary. Ce sera un des événements les plus importants qui aient jamais eu lieu à Calgary au chapitre du nombre de participants, alors qu'il y aura un nombre estimé de 680 équipes en ville au mois de mai 2023.
« Cet événement offre une occasion incroyable de présenter les attractions, les restaurants et les expériences de notre ville à environ 10 000 athlètes, entraîneurs, visiteurs et officiels de partout au pays et devrait injecter plus de 13 millions de dollars dans notre économie des visiteurs. »
Les premiers Championnats nationaux de l'année 2023 se dérouleront à nouveau à Ottawa, en Ontario, du 4 au 7 mai 2023 chez les 14U. Cela sera suivi d'une fin de semaine chargée du 11 au 14 mai, alors que les villes de Halifax, en Nouvelle-Écosse, et Winnipeg, au Manitoba, accueilleront les 14U tandis qu'Edmonton, en Alberta, recevra les garçons 15U et 16U. À l'occasion du troisième et dernier weekend, les filles 15U s'affronteront à Regina, en Saskatchewan.
« Volleyball Canada est ravi de retourner à Calgary en vue des Championnats nationaux 2023, a déclaré Sandra de Graaff, directrice des compétitions nationales à Volleyball Canada. Après le retour réussi de notre événement de type festival cette année à Edmonton, c'est emballant de pouvoir maintenir notre élan avec cette nouvelle compétition de neuf jours. »
Il y aura aussi la tenue des Championnats nationaux seniors en 2023, après que ceux-ci eurent été réintégrés au programme en 2022. Plus de détails sur les Championnats nationaux seniors seront dévoilés à une date ultérieure.
Volleyball Canada a récemment complété son programme des Championnats nationaux 2022, enregistrant alors la participation la plus importante dans l'histoire des Championnats nationaux avec 1042 équipes qui ont pris part aux compétitions jeunesse et seniors.
Les détails sur l'inscription aux Championnats nationaux seront communiqués dans les prochains mois.
Dates et hôtes des Championnats nationaux 2023
4 au 7 mai
• Ottawa 14U – Université Carleton
11 au 14 mai
• Halifax 14U – Centre des Jeux du Canada
• Winnipeg 14U – Centre des congrès RBC
• Edmonton 15UF et 16UM – Centre Saville
12 au 15 mai
• Calgary 16UF – Anneau olympique
15 au 18 mai
• Calgary 18U – Anneau olympique
18 au 21 mai
• Calgary 17U – Anneau olympique
• Regina 15UF – Place Evraz
Pour de plus amples renseignements, veuillez consulter la page Web des Championnats nationaux 2023 et pour recevoir les plus récentes mises à jour sur les Championnats nationaux directement dans votre boîte de courriel, abonnez-vous à l'Infolettre des Championnats nationaux.
Contact de Volleyball Canada pour les Championnats nationaux
nationals@volleyball.ca