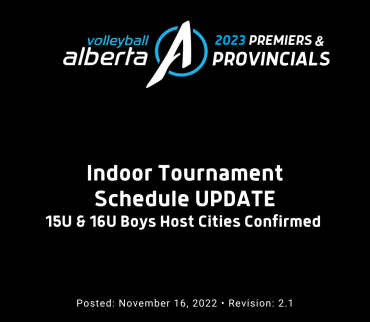 Posted: November 16, 2022
2023 Volleyball Alberta Indoor Tournament Schedule UPDATED
Season: 2022-2023 • Posted: November 16, 2022 • Revision: 2.1 • Page: 1 of 1
Volleyball Alberta has scheduled the following weekends for 2023 Premiers & Provincials.
Registration for all Premiers and Provincials opens on December 1, 2022.
All events marked TBD that were pending facility confirmation have been updated. Schedule is subject to change without notice. You can also find this schedule on our Club > General Info page.
NEW Schedule: 2023 Volleyball Alberta Tournament Schedule – REVISION 2.1