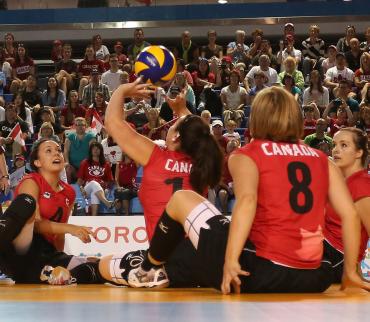 The Canadian Women's Sitting Volleyball Team will be playing five matches against the Netherlands as part of their final preparations for the Rio Paralympics. https://www.facebook.com/events/276173662740162/
Admission is FREE and all games are at the Saville Community Sports Centre on Court 7A. The times are as follows:
Friday August 5: 10am & 6pm
Saturday August 6: 10am & 6pm
Sunday August 7: 9am
Come out and see what sitting volleyball is all about while supporting the Canadian squad!
The athletes nominated to the Canadian Paralympic Team are as follows:
Chantal Beauchesne (St. Isidore, Ont.)
Angelena Dolezar (Edmonton)
Danielle Ellis (Langley, B.C.)
Leanne Muldrew (Winnipeg)
Jennifer Oakes (Calgary)
Shacarra Orr (Jaffray, B.C.)
Heidi Peters (Neerlandia, Alta.)
Tessa Popoff (Surrey, B.C.)
Amber Skyrpan (Wandering River, Alta.)
Felicia Voss-Shafiq (Burnaby, B.C.)
Jolan Wong (Pembroke, Ont.)
Katelyn Wright (Edmonton)
The nominated team will be supported by head coach Nicole Ban (Fort McMurray, Alta.)
Athlete and coach biographies are available at http://paralympic.ca/athletes. Bios and high resolution photos can be downloaded at http://tinyurl.com/j5uqote.