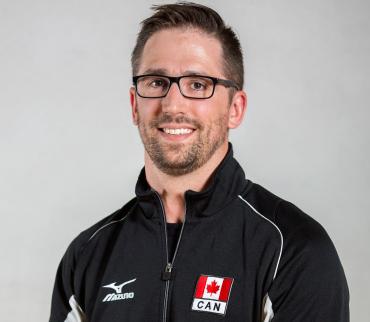 Volleyball Alberta is proud to announce that Ian Halliday will be returning to the Volleyball Alberta staff as our Coach Development Manager.
With over six years as Volleyball Canada's High Performance Director, Sitting Volleyball, Ian has collaborated with key partners and stakeholders to implement quadrennial training plans and guided the Men's and Women's programs to meet performance objectives. His tireless efforts with the Sitting programs were realized when the Women's team qualified for the Paralympic Games in 2016, a first-ever feat for a Canadian volleyball team.
His demonstrated record of success includes coaching stints with the University of Calgary (Interim Women's Head Coach, Men's Assistant Coach), the College of the Rockies (Men's Volleyball Head Coach), the Canuck Dinos Volleyball Club (2015 National Champions), Team Canada Sitting (Women's and Men's Head Coach), and our Team Alberta program (2013 Canada Games).
Ian holds a Master of Sport Coaching degree from the University of Queensland and is an NCCP Development Coach Learning Facilitator. He has developed content and resources for coaches and educators, for both the Sitting and Indoor disciplines and has mentored high-performance coaches.
As a former Volleyball Alberta Program Director, in both the Elite Development and Youth Development portfolios, Ian is expected to seamlessly transition to his new role of Coach Development Manager. His primary responsibilities will be to oversee the NCCP programs and create resources to help educate coaches and club leaders.
Beginning JANUARY 2, Ian will be working out of our Calgary office and be reachable via email at: ihalliday@volleyballalberta.ca