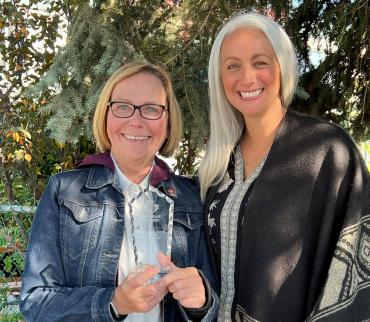 Debbie Jackson is the newest Lifetime Member of Volleyball Canada.
The National Referee Committee awarded the honour to Debbie for her tireless work in our volleyball community.
Debbie Jackson grew up in Dapp, AB as a star setter, winning the 1A Girl's Provincial Championships, with St. Mary's, Westlock. In 1977, when she was unable to afford to participate in the club season as a player, Debbie made the decision to contribute to our sport in another way, by becoming a referee.
In the early 80s Debbie moved to the Edmonton area, where she took the helm as the Zone Official's Chair. Back then, the ZOC was responsible for all facets of the current system, including financials, assigning, discipline and development, she was a one-woman band carrying the zone through each season. Debbie mastered this job for 6 years, spending countless hours on the phone (yes, assigning was done via the telephone back then) assigning games for the various leagues in the city, whilst raising two small children. Debbie recounts assigning from the hospital room shortly after she gave birth to her daughter Cindy in 1984. During those years Debbie became certified as a Level II (Provincial) and Level III (Regional) Official. Every minute of her spare time was spent propelling the sport of volleyball forward in the province by running clinics for new officials, developing zone structure as the ZOC, all while refereeing countless games at various levels herself. Debbie has always pushed to be sure every possible match that could have a referee had one, even if that meant giving up her evenings to do it.
In 1988, Debbie was nominated for the Level IV (National) program, where she completed her certification in Thunder Bay, Ontario. Debbie's drive and passion for the sport helped her to achieve this amazing accomplishment as a referee, which carried her forward in her refereeing career for the next three decades and counting.
In 2002 Debbie was elected as the ROC for the Province of Alberta. A position she held for two terms until 2008. It was during this time that Debbie made a name for herself at the National level. Debbie has since contributed to the DCC (Domestic Competitions Committee), sat as the Level IV Chair, and served as a member of the Level IV Upgrade Committee for many years. Debbie also developed and chaired the Female Referee Development Committee. A program that continues to gain traction and notoriety every season to promote and advocate for female referees across the country. In March 2022, Debbie was instrumental in planning and executing Alberta's 1st Women in Officiating Weekend (WOW) in Edmonton. This premier U17/U18 Boys event had 38 women – representing all regions of the province – together to referee a fantastic weekend of volleyball that included networking, mentoring, and, most importantly – empowerment for women referees.
Debbie's contributions to the Volleyball community in Alberta have been steadfast since her introduction to the refereeing community. Those contributions continue to this day. Every season, in the fall, Debbie is a staple during the Metro Edmonton & North Central zone Highschool season, driving across the province every weekend to cover small-town tournaments and league games. Debbie consistently works the ASAA High School Provincials in a Supervisory capacity, giving back years of knowledge and expertise to officials from across many zones at each event. She takes on the role of Mentor for many referees in the Zone 6 area looking to upgrade and hone their skills. In the winter and spring, Debbie concentrates all her effort on the ACAC Provincials & CCAA National Championships, as well as supervising and refereeing at VA age class events every weekend, sometimes even acting as a clinician for a Level I clinic within the zone. No matter the location, Debbie is willing to go to assist Volleyball Alberta to cover the growing number of courts in the Premier circuit. Debbie is one of two referees who have attended every VC Open/Youth Nationals since the inaugural new format event in 1998.
Every season, Debbie continues to look beyond her own achievements, in an effort to give back to the game that she truly, and wholeheartedly loves. Debbie is a mentor, a teacher, a wealth of knowledge, and a great referee. Her experiences and willingness to share them will continue to shape referees within Alberta for years to come.
As a referee Debbie attended the following notable events:
CCAA National Championships: 01' & 02' Grande Prairie, AB, 05' Quebec City, QC
USports (Formerly CIAU) National Championships: 04' University of Saskatchewan
Canada Games: 01', London, ON, 09' Charlottetown, PEI
Countless ACAC & CIS Men's and Women's Provincial/CanWest Championships
As a referee Supervisor/Mentor, Debbie attended the following notable events:
CCAA Women's National Championships:
08' Mount Royal, AB
10' Outaouais, QC
11' University of New Brunswick, NB
12' Vancouver Island University, BC
13' Lakeland College, AB
15' Eduoard-Montpetit, QC
16' Holland College, PEI
17' Camosun College, BC
18' Grande Prairie College, AB
9' Niagara College, ON
20' Garneau, QC
CCAA Men's National Championships
Volleyball Canada Youth Nationals
98', 99', 00', 01', 02', 03', 04', 05', 06', 07', 08', 09', 10', 11', 12', 13', 14', 15', 16', 17', 18', 19' and upcoming '22
World Junior Games & World Masters Games
University of Alberta, 1998
Edmonton, AB, 2005
Debbie's nomination for the award was submitted by a four Alberta referees (Jim Merrick, Katyryna Gaudet, Kyle Fraser & Shawn Shepherd). Their shared support of her nomination is a testament to the number of people Debbie has and continues to impact across this province.
Pictured: Alberta's Regional Referee Chair Katyryna Gaudet presents the Award to Debbie Jackson on Oct 6, 2022.