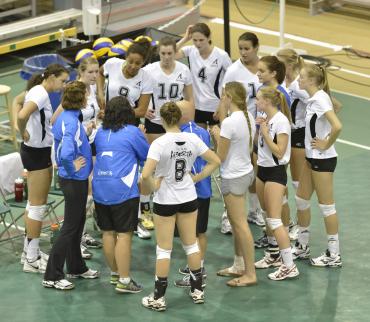 Volleyball Canada's Domestic Development Committee recently voted to adopt expanded Age Categories for the 2016 Volleyball Canada National Championships. All Provincial/Territorial Associations unanimously agreed to adopt the policy for this upcoming Indoor 2015-16 season.
The age categories expand from last years' policy of a maximum of two over-aged athletes born in the months of September to December of the previous year, to an unlimited number.
Full age categories are as follows:
Adult: OPEN
18U*: Athletes born from September 1, 1997 to Dec 31 1998 (16 months) AND are in their first year of grade 12. Athletes born in 1998 and have graduated high school are also eligible.
17U**: Athletes born from September 1, 1998 to Dec 31 1999 (16 months)
16U: Athletes born from September 1, 1999 to Dec 31 2000 (16 months)
15U: Athletes born from September 1, 2000 to Dec 31 2001 (16 months)
14U: Athletes born from September 1, 2001 to Dec 31 2002 (16 months)
13U: Athletes born from September 1, 2002 to Dec 31 2003 (16 months). Volleyball Alberta has a 13U category- there is not a 13U category for National Championships.
*Athletes born from September 1 – 31, 1997 who wish to compete in the 18U category will need to complete an 2016 Overage Exemption Form to have their school verify that the athlete in in their first year of grade 12.
**Athletes born September 1-December 31 of the previous year, on a current CCAA or CIS volleyball roster, will not be permitted to play in the 17U age class
Download full policy HERE
Rationale
The expansion of age categories from 12 months to 16 is due to the research provided in the LTAD 2.0 document published by the Canadian Sport for Life group. The paper lists the 10 Key Factors influencing Long Term Athlete Development, of which "Developmental Age" is listed as point #3. Page 28-30 provides generic information about Developmental Age and demonstrates the flaws of lumping athletes into their birth year for participation in sports. In short, the large physical discrepancies that can occur between youth within the same birth year create significant disadvantages for late developing male athletes and to a lesser degree, early developing females. While the paper does not specifically raise the example of playing at ones' skill level versus chronological age, it is Volleyball Canada's position that players should strongly consider playing to their skill level. The LTAD model is "athlete centered" and Volleyball Canada bases decisions within this model and how athletes can be supported to reach their full potential. If playing up provides the needed challenge for improvement, and there exists no significant social/emotional drawbacks in the older age category, the benefits of playing up far outweigh the drawbacks.
F.A.Q's
Can an Overage athlete (Sept-Dec of the previous year) play on multiple teams?
Last years' policy did not allow an over-age athlete (Sept-Dec of the previous year) to play in two VC Championships. This years' policy does allow it.

Can an athlete play in the same age category for two consecutive years?
Yes, provided they are within the 16 month window.

Is there any paper work or approval process for the athletes born from Sept-Dec of the previous year?
With the exception of the 18U age category, there is no approval process. The age category is simply 16 months.
Will this apply to Provincial Teams, National Teams or Canada Games?
No. This will only apply to Indoor Club. As we move further into high performance programs (from club into provincial team) the goal is for athletes to work toward the highest level of play, which is international – FIVB age categories will always be the calendar year and we will need to match their categories.

Will this apply to Beach?
No. With only two players on a team there should be very little challenges with finding one person within the same age category.