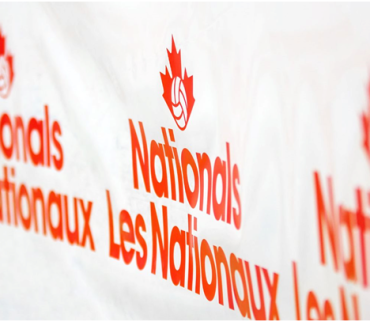 Posted: August 16, 2022
Volleyball Canada announces date change for Calgary 2023
August 16, 2022: Volleyball Canada has adjusted the dates of the 2023 Youth National Championships taking place in Calgary, Alberta at the Olympic Oval.
Calgary will still host the same age categories: the 16U girls will take place May 10-13, followed by 17U May 13-16, and 18U May 17-20.
"Although we always plan our events carefully and with the athletes, coaches and officials in mind, we've listened to feedback and understand that the previous dates were not ideal for all participants," said Sandra de Graaff, Director of Domestic Competitions for Volleyball Canada. "We've worked with the Olympic Oval and the University of Calgary to amend these dates to better serve all those attending Nationals."
All dates and age categories for the other 2023 Nationals host cities remain the same, kicking off once again in Ottawa, Ontario, May 4 to 7, 2023 for 14U. This will be followed by an action-packed weekend from May 11 to 14, with Halifax, Nova Scotia and Winnipeg, Manitoba hosting 14U while Edmonton, Alberta will have the 15U and 16U boys. In the third and final weekend, the 15U girls will battle in Regina, Saskatchewan.
"We are extremely excited to announce that Calgary has been selected as the host city for the 2023 Nationals," said Carson Ackroyd, Senior Vice President of Sales with Tourism Calgary. "This will be among the largest participant-based events Calgary has hosted, bringing an estimated 680 teams to the city in May of 2023.
"This event offers an incredible opportunity to showcase our city's attractions, restaurants, and experiences to approximately 10,000 athletes, coaches, visitors, and officials from across the country and is projected to inject more than $13 million into our visitor economy."
Also being hosted in 2023 will be the Senior National Championships, after being re-introduced in 2022. Details on the Senior Nationals and Nationals registration will be released in the coming months.
Updated 2022 Nationals Dates & Locations
May 4 – 7:
Ottawa 14U – Carleton University
May 10 – 13:
Calgary 16UG – Olympic Oval
May 11 – 14:
Halifax 14U – Canada Games Centre
Winnipeg 14U – RBC Convention Centre
Edmonton 15UB & 16UB – Saville Centre
May 13 – 16:
Calgary 17U – Olympic Oval
May 17 – 20:
Calgary 18U – Olympic Oval
May 18 – 21:
Regina 15UG – Evraz Place
For more information, please see the 2023 Nationals webpage and to receive the latest Nationals updates right to your inbox, subscribe to the Nationals Newsletter.
Volleyball Canada Nationals contact
nationals@volleyball.ca