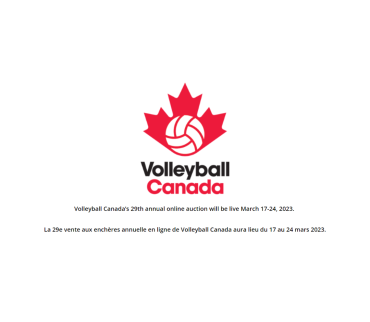 Posted: February 21, 2023
Volleyball Canada is holding its highly anticipated annual fundraising auction from March 17-24, 2023. The online auction reaches supporters across the country at www.volleyballauction.ca.
This year's auction will raise funds to help Volleyball Canada athletes reach their goal of qualification and success leading up to the 2024 Olympics and Paralympics in Paris, France.
A wide range of auction items have been generously provided by donors to reach Volleyball Canada's auction goal of $40,000. This year's items include exclusive Canadian getaways, autographed sports memorabilia, attraction passes, gift certificates and much more!
For more information or to donate to the auction, please email auction@volleyball.ca
Repost from Volleyball Canada
Courtney & Megan
Volleyball Canada
Auction Team
Vente au Enchere