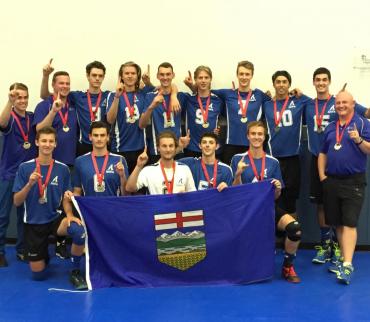 Volleyball Alberta is proud to announce the athletes who will be representing us as part of our Team Alberta Indoor program this summer.
Selection Camp #1 took place in Edmonton April 30, while Selection Camp #2 ran in Calgary from May 21-23, 2016. We would like to thank all of the athletes who participated in the camps!
While the Junior National team selections in June may alter the makeup of our teams, as it stands now our 2016 program will look as follows:
Team Alberta – 17U Women
Lexi Peart, Elyse Hart, Myja Wildenhoff, Danielle Price, Haley Roe, Marina Culo, Jenae Eisler, Julia Zonneveld, Milana Zivak, Kacey Jost, Madison Marshall, Emma Kieftenbeld
Team Alberta – 18U Women
Mackenzie Gladue, Renae Lapins, Vanessa Jarman, Hannah Tanasichuk, Tess Pearman, Tabitha Martin, Erin Corbett, Hilary Howe, Danielle Kath, Avery Theune, Sydney Austin, Rachel Jorvina
17U & 18U Women's Team Alberta Program Alternates
Laura Alongi, Jamie Brown, Lauren Kroetsch, Kaitlyn Kuchinka, Jadyn Leong, Kayla Passmore
Team Alberta – 17U Men
Caleb Weiss, Mitch Newman, Liam Huth, Caleb Funk, Chris Seyffert, Zachari Gotmy, Jesse Elser, Ryan Zachary, Parker Biletsky, Jordan Krause, Jaxson Thys, Perry Wulder
Team Alberta – 18U Men
Max Elgert, Keal Prince, Jakob Hamilton, Jackson Howe, Ty Moline, Mark Alexander, Jordan Peters, Marshall Koch, Luke Harvey, Jake Jessup, Devon Klein, Garrett Corkery
17U & 18U Men's Team Alberta Program Alternates
Winston Voogd, Jonathan Milne, Jared Krogen, Tyler Jodoin, Trey Weinmeier, Jackson Brennan, Reece Lehman
These teams will begin training June 30 in Edmonton and will represent Alberta at the National Team Challenge Cup event July 13-17. The Men's NTCC's will be held in Kingston, ON while the Women's NTCC's will be in Richmond, BC.