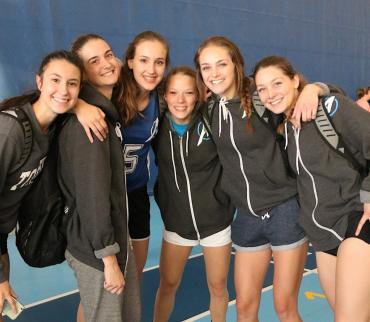 The 17U & 18U Team Alberta programs are competing at the USA High Performance Championships in Fort Lauderale July 18-22. The tournament schedule may be found at:
https://www.advancedeventsystems.com/EventResults/(S(wbkspamocltnlyeytbknoy55))/Home.aspx?e=PTAwMDAwMTMwODg90
Boys International Division – our 17U Team Alberta Boys are listed as TA2, our 18U Boys are listed as TA1
Girls International Youth Division – our 17U Team Alberta 17U Girls are listed as TAY
Girls International Junior Division– our 18U Girls are listed as TAG
The tournament website is below. Courts #1 – 4 will be live streamed.
http://www.teamusa.org/usa-volleyball/high-performance/hp-indoor/programs-and-events/hp-championships
Good luck to all of our teams!
17U Women's Team Alberta Roster
| | | |
| --- | --- | --- |
| Uniform # | Athlete Name | Position |
| 4 | Dora Komlodi | Setter |
| 14 | Hayley McNaught | Middle |
| 5 | Hope Kotun | Outside Hitter |
| 13 | Jade Bussard | Outside Hitter |
| 7 | Jessica Osczevski | Outside Hitter |
| 2 | Journey Flewell | Outside Hitter |
| 10 | Madi Stevens | Outside Hitter |
| 1 | Megan Foxcroft | Libero |
| 11 | Mikayla Benterud | Middle |
| 3 | Natalie Bloemen | Setter |
| 6 | Samantha Gagnon | Outside Hitter |
| 12 | Dana Dunbar | Middle |
Coaches: Craig Marshall & Larissa Cundy
17U Men's Team Alberta Roster
| | | |
| --- | --- | --- |
| Uniform # | Athlete Name | Position |
| 14 | Ayden Rust | Middle |
| 5 | Cameron Kern | Setter |
| 18 | Greg Kaliel | Middle |
| 10 | Jayden Hiebert | Outside Hitter |
| 11 | Micheal Ingstrup | Outside Hitter |
| 3 | Mitchel Gorman | Outside Hitter |
| 4 | Noah Campbell | Outside Hitter |
| 8 | Noah Robertson | Outside Hitter |
| 9 | Ross Bishop | Middle |
| 16 | Ryan Adams | Outside Hitter |
| 7 | Sam Elgert | Setter |
| 12 | Tanner Piers | Middle |
| 13 | Brody Kopec | Outside Hitter |
| 6 | Benjamin Kennedy (alternate) | Middle |
Coaches: Keegan Kuhr & Jordan Taylor
Canada Games – 18U Women's Team Alberta Roster
| | | |
| --- | --- | --- |
| Uniform # | Athlete Name | Position |
| 15 | Elizabeth (Lizzy) Reimer | Middle |
| 4 | Elyse Hart | Setter |
| 11 | Emma Kieftenbeld | Outside Hitter |
| 10 | Jenae Eisler | Libero |
| 8 | Julia Zonneveld | Outside Hitter |
| 5 | Kacey Jost | Outside Hitter |
| 2 | Lauryn Tremblay | Outside Hitter |
| 9 | Lexis Peart | Setter |
| 3 | Madison Marshall | Outside Hitter |
| 6 | Marina Culo | Middle |
| 7 | Milana Zivak | Outside Hitter |
| 13 | Myja Wildenhoff | Middle |
| 1 | Rayn Perry (alternate) | Setter |
| 14 | Tabitha Martin (alternate) | Middle |
Coaches: Christine Smyth, Carolyn O'Dwyer, Jen Telfer
Canada Games – 18U Men's Team Alberta Roster
| | | |
| --- | --- | --- |
| Uniform # | Athlete Name | Position |
| 12 | Caleb Funk | Middle |
| 5 | Caleb Weiss | Setter |
| 8 | Colm Guyn | Setter |
| 9 | Hunter Stewart | Outside Hitter |
| 1 | Jackson Brennan | Setter |
| 3 | Jesse Elser | Outside Hitter |
| 7 | Liam Huth | Middle |
| 10 | Luis Lange | Middle |
| 4 | Mathias Elser | Outside Hitter |
| 2 | Matthew Neaves | Outside Hitter |
| 6 | Mitchell Newman | Outside Hitter |
| 11 | Reece Lehman | Middle |
| 15 | Ryan Zachary | Outside Hitter |
| 14 | Noah Campbell (alternate) | Outside Hitter |
| 13 | Jordan Krause | Outside Hitter |
Coaches: Brock Davidiuk, Brad Poplawski, & Dale Johns