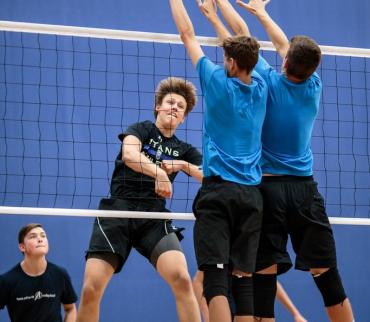 Volleyball Alberta would like to congratulate Team Alberta on their recent accomplishments at the National Team Challenge Cup (NTCC) and High Performance Championships. All the teams trained hard to prepare for these competitions.
The 16U Boys competed at the NTCC's in Gatineau alongside the best teams from across Canada. They finished with a 3-1 record in pool play, then made it to the semi-finals against Ontario Black, and dropped the match three sets to one. In the bronze medal game, Alberta were able to come out on top after a five set battle against BC Blue.
The 16U Girls' NTCC Championship was held in Richmond, BC. Team Alberta had two teams competing in this event. Alberta Blue had two wins and two losses during pool play, while Alberta Black had three wins and one loss. Alberta Blue lost a heart breaking five set playoff match against BC Blue, while Alberta Black lost in straight sets to BC Red. Both Alberta squads would eventually face each other, with Alberta Black beating Alberta Blue for fifth place in the tournament.
The 17U Boys competed in the International Division at the High Performance Championships, in Fort Lauderdale, Florida. They were often playing against older teams, but held their own throughout the tournament, finishing with a 2-6 record. The team's two victories came over USA Youth Blue and USA Select teams.
Our 17U Girls were in the International Youth Division at the HP Championships. The team started the tournament strong with a straight sets victory over Club de Regatas from Lima, Peru, but then dropped their next four in hard fought matches. The girls closed out the tournament with a stronger finish, winning two of their next three matches, with victories over Team Saskatchewan and the Badger Region from Wisconsin.
The 18U Men competed in the International Division, and finished tenth out of twenty four teams sporting a 4-4 record. The team came out of the gates slowly with losses against Team Saskatchewan and BC, but rallied back winning four of their next six matches. Their victories came against USA Selects Blue, USA Youth Blue, Manitoba, and Team Ontario 17's.
The 18U girls played in the Women's International Division, and had a grueling scheduled, playing three matches going five full sets. Despite their challenges, the team managed to pull out wins against USA Junior White, Newfoundland and USA Youth Blue. They finished with a 3-5 record and a great overall competitive experience!
Congratulations to all the athletes and coaches!
Team Alberta 16U Boys
| | | |
| --- | --- | --- |
| Uniform # | Athlete Name | Position |
| 2 | Jack Cochran | Setter |
| 30 | Maxim Turgeon | Middle |
| 25 | Christopher Byam | Outside |
| 24 | Tyler Funk | Outside |
| 1 | Dylan Van Spankeren | Libero |
| 21 | Jens Watt | Outside |
| 20 | Andrew Seguin | Setter |
| 22 | Ethan Duffet | Middle |
| 29 | Jordan Zadrozny | Middle |
| 19 | Wyatt Turnbull | Outside |
| 27 | Joel Nickel | Outside |
| 23 | Bryce Neuls | Outside |
| 17 | Colby Nemeth | Alternate |
| 28 | Jake Kim | Alternate |
Coaches: Jace Richards & Sean McKay
Team Alberta Black (16U Girls)
| | | |
| --- | --- | --- |
| Uniform # | Athlete Name | Position |
| 1 | Michela Alongi | Libero |
| 2 | Mikayla Sherriffs | Outside |
| 3 | Jaelle Ogilive | Middle |
| 4 | Siarra Pless | Outside Hitter |
| 5 | Mary Murray | Setter |
| 14 | Julia Sprentz | Middle |
| 8 | Vanessa Loos | Outside Hitter |
| 9 | Brooklyn Wright | Middle |
| 10 | Abigail Gruenhage | Outside Hitter |
| 11 | Kara McIntyre | Outside Hitter (Alternate) |
| 12 | Michelle Deng | Setter |
| 13 | Amaya Perry | Outside Hitter |
| 6 | Edan Wade | Outside Hitter (Alternate) |
| 15 | Keawna Kroontje | Outside Hitter |
Coaches: Ian McIntyre & Kacey Otto
Team Alberta Blue (16U Girls)
| | | |
| --- | --- | --- |
| Uniform # | Athlete Name | Position |
| 16 | Emileigh Inglis | Outside Hitter |
| 18 | Makenna Woitas | Setter |
| 19 | Delaney Patrick | Middle |
| 20 | Jenna Gregg | Setter (alternate) |
| 21 | Mariah Bereziuk | Middle |
| 22 | Taylor McDonald | Outside Hitter |
| 23 | Riley de Wit | Outside Hitter |
| 24 | Tatiana Decore | Middle (alternate) |
| 25 | Jayce Day | Setter |
| 26 | LeeAnne Arnott | Outside Hitter |
| 27 | Madison Adam | Middle |
| 28 | Rachel Perry | Outside Hitter |
| 29 | Julianna Truscott | Outside Hitter |
| 30 | Danielle Dardis | Middle |
Coaches: Craig Wourms & Michelle Bodnarek
17U Women's Team Alberta Roster
| | | |
| --- | --- | --- |
| Uniform # | Athlete Name | Position |
| 4 | Dora Komlodi | Setter |
| 14 | Hayley McNaught | Middle |
| 5 | Hope Kotun | Outside Hitter |
| 13 | Jade Bussard | Outside Hitter |
| 7 | Jessica Osczevski | Outside Hitter |
| 2 | Journey Flewell | Outside Hitter |
| 10 | Madi Stevens | Outside Hitter |
| 1 | Megan Foxcroft | Libero |
| 11 | Mikayla Benterud | Middle |
| 3 | Natalie Bloemen | Setter |
| 6 | Samantha Gagnon | Outside Hitter |
| 12 | Dana Dunbar | Middle |
Coaches: Craig Marshall & Larissa Cundy
17U Men's Team Alberta Roster
| | | |
| --- | --- | --- |
| Uniform # | Athlete Name | Position |
| 14 | Ayden Rust | Middle |
| 5 | Cameron Kern | Setter |
| 18 | Greg Kaliel | Middle |
| 10 | Jayden Hiebert | Outside Hitter |
| 11 | Micheal Ingstrup | Outside Hitter |
| 3 | Mitchel Gorman | Outside Hitter |
| 4 | Noah Campbell | Outside Hitter |
| 8 | Noah Robertson | Outside Hitter |
| 9 | Ross Bishop | Middle |
| 16 | Ryan Adams | Outside Hitter |
| 7 | Sam Elgert | Setter |
| 12 | Tanner Piers | Middle |
| 13 | Brody Kopec | Outside Hitter |
| 6 | Benjamin Kennedy (alternate) | Middle |
Coaches: Keegan Kuhr & Jordan Taylor
Canada Games – 18U Women's Team Alberta Roster
| | | |
| --- | --- | --- |
| Uniform # | Athlete Name | Position |
| 15 | Elizabeth (Lizzy) Reimer | Middle |
| 4 | Elyse Hart | Setter |
| 11 | Emma Kieftenbeld | Outside Hitter |
| 10 | Jenae Eisler | Libero |
| 8 | Julia Zonneveld | Outside Hitter |
| 5 | Kacey Jost | Outside Hitter |
| 2 | Lauryn Tremblay | Outside Hitter |
| 9 | Lexis Peart | Setter |
| 3 | Madison Marshall | Outside Hitter |
| 6 | Marina Culo | Middle |
| 7 | Milana Zivak | Outside Hitter |
| 13 | Myja Wildenhoff | Middle |
| 1 | Rayn Perry (alternate) | Setter |
| 14 | Tabitha Martin (alternate) | Middle |
Coaches: Christine Smyth, Carolyn O'Dwyer, Jen Telfer
Canada Games – 18U Men's Team Alberta Roster
| | | |
| --- | --- | --- |
| Uniform # | Athlete Name | Position |
| 12 | Caleb Funk | Middle |
| 5 | Caleb Weiss | Setter |
| 8 | Colm Guyn | Setter |
| 9 | Hunter Stewart | Outside Hitter |
| 1 | Jackson Brennan | Setter |
| 3 | Jesse Elser | Outside Hitter |
| 7 | Liam Huth | Middle |
| 10 | Luis Lange | Middle |
| 4 | Mathias Elser | Outside Hitter |
| 2 | Matthew Neaves | Outside Hitter |
| 6 | Mitchell Newman | Outside Hitter |
| 11 | Reece Lehman | Middle |
| 15 | Ryan Zachary | Outside Hitter |
| 14 | Noah Campbell (alternate) | Outside Hitter |
| 13 | Jordan Krause | Outside Hitter |
Coaches: Brock Davidiuk, Brad Poplawski, & Dale Johns