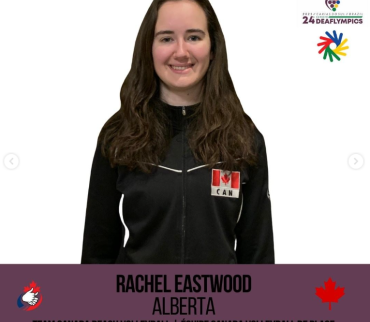 Posted: April 26, 2022
Discover our @ASSC-CDSA Team Canada Beach Volleyball athletes!
We are wishing beach volleyball players Rachel Eastwood (Calgary, Alberta) & her partner Kimberly Summers (Ontario) all the best as they prepare to compete in the upcoming 2022 Summer Deaflympics in Brazil (May, 1st – 15th, 2022)!
For info on the Canada Deaf Sports Association and Rachel's team, go to: https://assc-cdsa.com/en/deaflympics-2022-teams-canada-beach-volleyball/
Rachel played for Western Canada High School, ACE Volleyball Club, she attended the University of Victoria earning a B.Sc. in Linguistics while playing on the UVIC Women's Club team and she is currently coaching with @acevolleyballclub.
Rachel has previously competed in indoor volleyball as a setter for Deaf Team Canada and this will be her first international competition as a beach volleyball player.
For info on the Games, https://www.deaflympics2021.com/
We encourage you to follow @deaflympics2021official account & @assccdsa
Let's hear it for our @ASSC-CDSA Team Canada Beach Volleyball athletes, Rachel & Kimberly! Show your support by heading over to their account @assccdsa and #BeOnCDSA !!
#GoCanadaGo