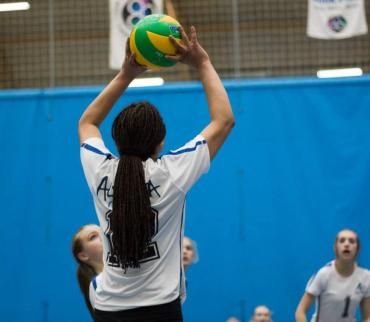 The Arctic Winter Games is a sport competition for northern and arctic athletes, and a multi-cultural exposition for the circumpolar world. The 2023 Arctic Winter Games are in Wood Buffalo, Alberta January 29 – February 4, 2023. Indoor volleyball is one of the sports at the Games, which is the world's largest northern multi-sport and cultural event.
Volleyball Alberta is proud to announce the selection of Team Alberta North below, cheer them on and follow their progress in the tournament at the Games Results Page.
Team Alberta North Women
#1 Reece Holman
#2 Samantha Langdon
#4 Katelyn Mazurkewich
#6 Natasa Maric
#7 Alandra Humbke
#9 Emma Park
#10 Evangeline Zeyha
#11 Indira Germain
#13 Savannah Lambert
#14 Tess Weber
Alternates: Halle Brough, Klara Kubicka, Erin Noskey, Allie McCracken
Coaches: Shane Zeyha & Shaun Park
Team Alberta North Men
#4 Aneesh Jhanwar
#5 Trysten Kim
#6 Reece Hutchison
#7 Hudson Forbes
#8 Caiden Kim
#9 Jackson McGillvray
#10 Carson King
#11 Cooper Paulovich
#13 David Villiger
#14 Tino Kwatara
Alternates: Jace Lunn, Alex Golnick, Rudra Patel
Coaches: Peter Peraino & Helly Kim
The Games provide an opportunity to strengthen sport development in participating jurisdictions; to promote fair play, the benefits of sport and healthy lifestyles; to build partnerships; and to promote cultural diversity awareness and understanding. The Games celebrate sport, social exchange, and culture while providing an opportunity for the developing athlete to participate in friendly competition and share cultural values of northern regions of the world.