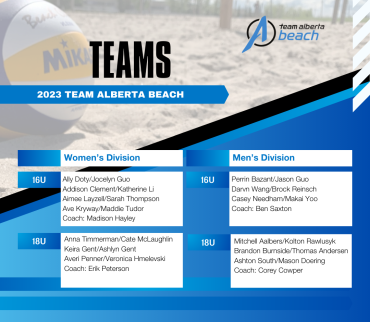 Posted: June 29, 2023
We are thrilled to have the following athletes and coaches in our 2023 Team Alberta Beach Program!
Team Alberta Beach 16U Men: Perrin Bazant/Jason Guo, Darvn Wang/Brock Reinsch, Casey Needham/Makai Yoo, Head Coach: Ben Saxton
Team Alberta Beach 16U Women: Ally Doty/Jocelyn Guo, Addison Clement/Katherine Li, Aimee Layzell/Sarah Thompson, Ave Kryway/Maddie Tudor, Head Coach: Madison Hayley
Team Alberta Beach 18U Men: Mitchell Aalbers/Kolton Rawlusyk, Brandon Burnside/Thomas Andersen, Ashton South/Mason Doering, Head Coach: Corey Cowper
Team Alberta Beach 18U Women: Anna Timmerman/Cate McLaughlin, Keira Gent/Ashlyn Gent, Averi Penner/Veronica Hmelevski, Head Coach: Erik Peterson
Team Alberta Beach athletes selected to the program at the June selection camps will attend Training Camp #1 July 31 – August 4, and participate in Youth Beach Provincials August 5 – 6. They will then travel to Toronto for Training Camp #2 August 14 – 17, and compete in Youth Beach Nationals August 18 – 20.
For more information on Volleyball Alberta's Team Alberta Beach Program, please visit the program page on our website: https://www.volleyballalberta.ca/youth-team-ab