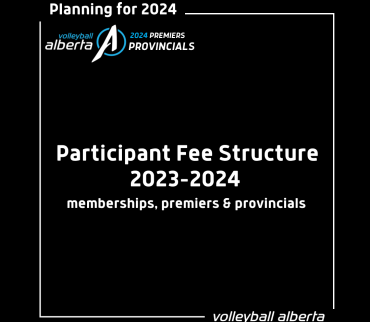 Posted: June 30, 2023
Volleyball Alberta Participant Fee Structure 2023-2024
Volleyball Alberta announces its Membership, Premier & Provincial Event Fee Structure for the 2023/24 competition season, as approved by the Volleyball Alberta Board of Directors on June 24, 2023.
All Volleyball Alberta (VA) and Volleyball Canada (VC) registrations will be done on the Volleyball Registration System (VRS) powered by Sportlomo again next season.
The VRS-Sportlomo will open for VA's new season on August 9th at 9:00 am.
Memberships purchased in August will have a status of: Future Start Date and the status will automatically change to Active on September 1st. The Volleyball Alberta Events portal will allow Future Start Date & Active status members to register for 2023-2024 events/programs/clinics that are scheduled to open in August, such as the Club Approval Application, GO Sports Edmonton Fall Programs and Referees.
Memberships are valid from September 1st to August 31st of each year. Our Membership Fees & Benefits are assessed on an annual basis. Membership fees include a VA and VC component.
The VA fees will remain the same as last season. The VC competitive membership categories will have an increase of $2.00. Volleyball Canada's Participants webpage has information on the different categories, benefits and fees set at the VC level.
The fee breakdown and overall fee per category are detailed in the VA Participant Fee Structure document:
Please note that the referee fees will be announced as soon as they are confirmed by Volleyball Canada
For more information on Volleyball Alberta's Fees & Benefits, please visit our Registration > Fees page
For more information on Volleyball Alberta's club season, please visit our Indoor > Club > General info page
July, August & September is when Volleyball Alberta does a lot of its planning for the next indoor season, works on the season planner and posts information and new links on our website as they are ready to be released.
Latest News Stories and new links will be added as documents, forms, lists, registrations, schedules, resources and other event information are ready to be released for the upcoming 2023/24 season and will replace last season's documents. Stay Tuned!
Volleyball Alberta
Membership Services Coordinator
Contact: Julie Noel
info@volleyballalberta.ca