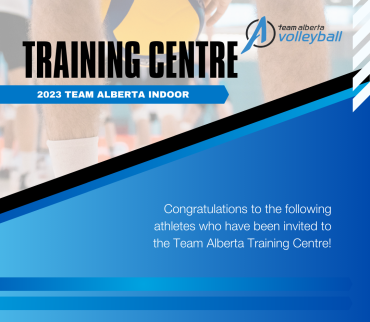 Posted: June 30, 2023
2023 Team Alberta Training Centres begin Monday!
We are thrilled to have the following athletes in our 2023 Team Alberta Indoor Program.
Congratulations to the following athletes who have been invited to the Team Alberta Training Centre!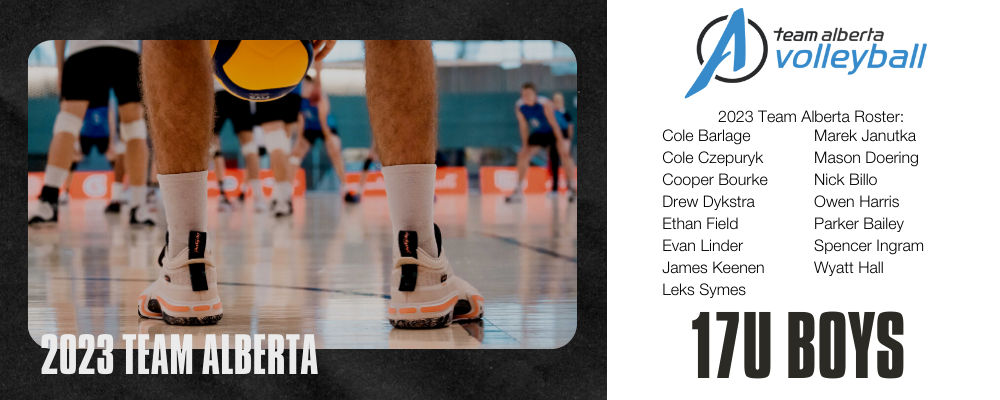 17U Boys: Cole Barlage , Cole Czepuryk , Cooper Bourke , Drew Dykstra , Ethan Field , Evan Linder , James Keenen , Leks Symes , Marek Janutka , Mason Doering , Nick Billo , Owen Harris , Parker Bailey , Spencer Ingram , Wyatt Hall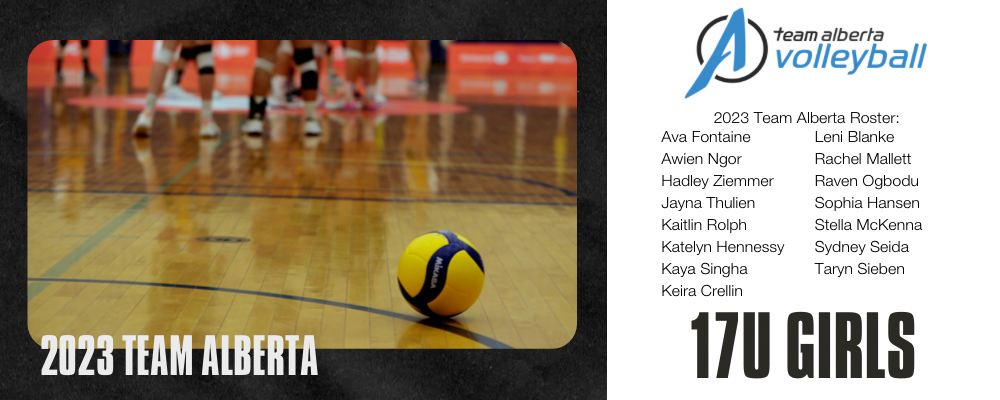 17U Girls: Ava Fontaine, Awien Ngor, Hadley Ziemmer, Jayna Thulien, Kaitlin Rolph, Katelyn Hennessy, Kaya Singha, Keira Crellin, Leni Blanke, Rachel Mallett, Raven Ogbodu, Sophia Hansen, Stella McKenna, Sydney Seida, Taryn Sieben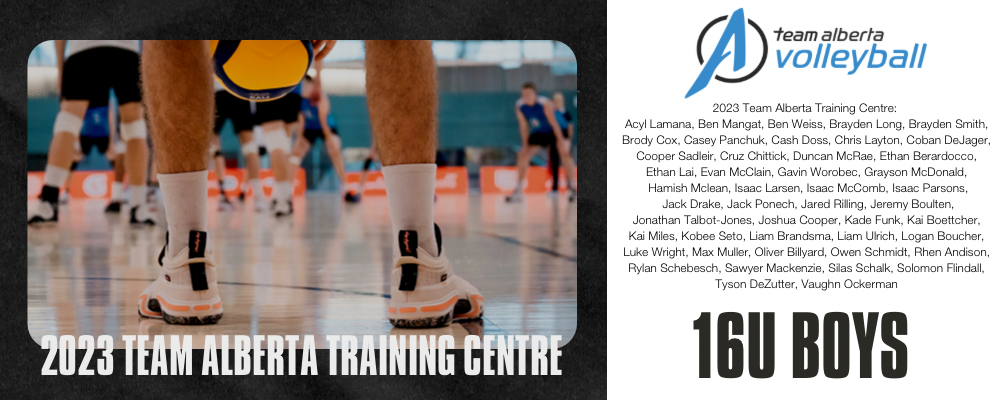 16U Boys: Acyl Lamana, Ben Mangat, Ben Weiss, Brayden Long, Brayden Smith, Brody Cox, Casey Panchuk, Cash Doss, Chris Layton, Coban DeJager, Cooper Sadleir, Cruz Chittick, Duncan McRae, Ethan Berardocco, Ethan Lai, Evan McClain, Gavin Worobec, Grayson McDonald, Hamish Mclean, Isaac Larsen, Isaac McComb, Isaac Parsons, Jack Drake, Jack Ponech, Jared Rilling, Jeremy Boulten, Jonathan Talbot-Jones, Joshua Cooper, Kade Funk, Kai Boettcher, Kai Miles, Kobee Seto, Liam Brandsma, Liam Ulrich, Logan Boucher, Luke Wright, Max Muller, Oliver Billyard, Owen Schmidt, Rhen Andison, Rylan Schebesch, Sawyer Mackenzie, Silas Schalk, Solomon Flindall, Tyson DeZutter, Vaughn Ockerman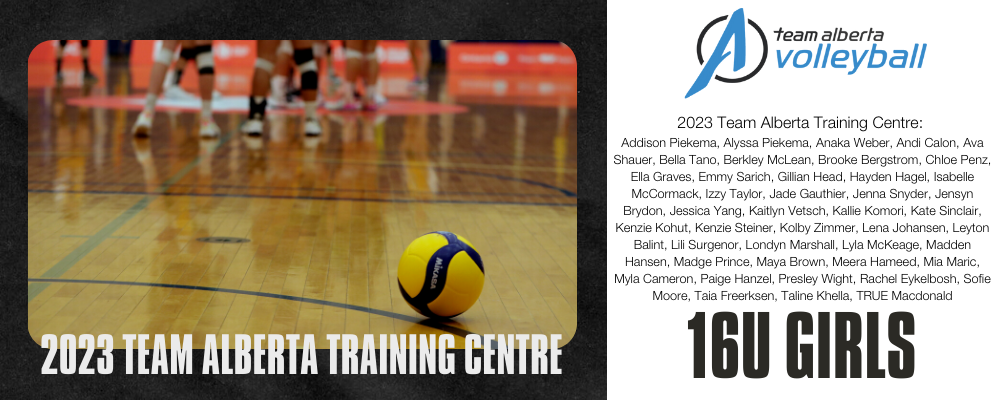 16U Girls: Addison Piekema, Alyssa Piekema, Anaka Weber, Andi Calon, Ava Shauer, Bella Tano, Berkley McLean, Brooke Bergstrom, Chloe Penz, Ella Graves, Emmy Sarich, Gillian Head, Hayden Hagel, Isabelle McCormack, Izzy Taylor, Jade Gauthier, Jenna Snyder, Jensyn Brydon, Jessica Yang, Kaitlyn Vetsch, Kallie Komori, Kate Sinclair, Kenzie Kohut, Kenzie Steiner, Kolby Zimmer, Lena Johansen, Leyton Balint, Lili Surgenor, Londyn Marshall, Lyla McKeage, Madden Hansen, Madge Prince, Maya Brown, Meera Hameed, Mia Maric, Myla Cameron, Paige Hanzel, Presley Wight, Rachel Eykelbosh, Sofie Moore, Taia Freerksen, Taline Khella, True Macdonald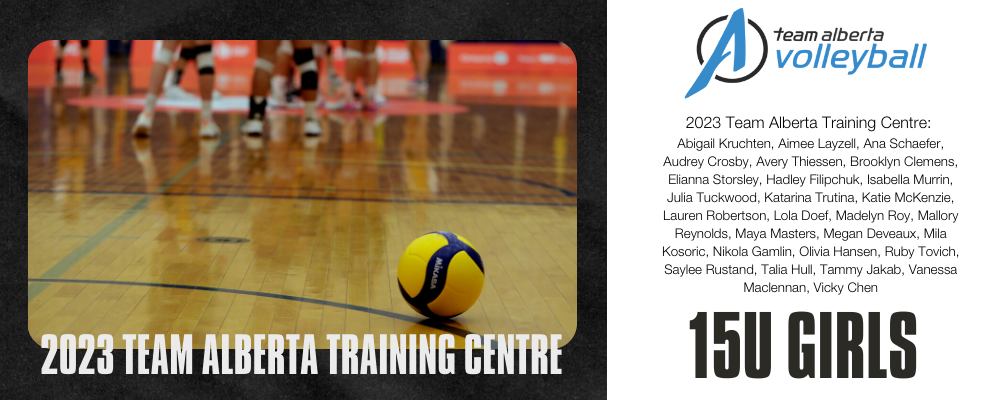 15U Girls: Abigail Kruchten, Aimee Layzell, Ana Schaefer, Audrey Crosby, Avery Thiessen, Brooklyn Clemens, Elianna Storsley, Hadley Filipchuk, Isabella Murrin, Julia Tuckwood, Katarina Trutina, Katie McKenzie, Lauren Robertson, Lola Doef, Madelyn Roy, Mallory Reynolds, Maya Masters, Megan Deveaux, Mila Kosoric, Nikola Gamlin, Olivia Hansen, Ruby Tovich, Saylee Rustand, Talia Hull, Tammy Jakab, Vanessa Maclennan, Vicky Chen
For more information on Volleyball Alberta's Team Alberta Program, please visit the program pages on our website:
The 16U and 15U athletes will be first participating at the Team AlbertaTraining Centre from July 3rd to 9th, Competition teams will be selected at the end of the Team AB Cup, July 8th and 9th. There will be 2x 16U Girls, 2x 16U Boys, and 1x 15U Girls teams.
Key Dates:
Training Centre: July 3-9 @ Saville
Team Training: July 10-18 @ Saville
Canada Cup: July 19-23 @ Brock University and Canada Games Park