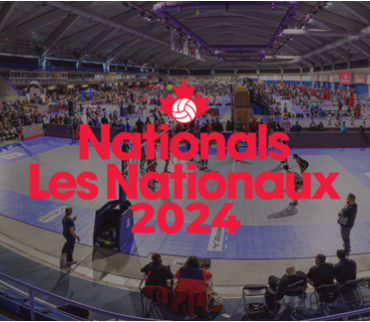 Posted: July 11, 2023
Volleyball Canada Announces 2024 Youth Nationals Dates
July 6, 2023: Volleyball Canada is proud to announce the dates and locations for the 2024 Youth National Championships, highlighted by a festival atmosphere, twelve-day event in Edmonton, Alberta.
From May 15 to 26, 2024, Edmonton will play host to the 14UB through 18U age groups as well as featuring world-class international and para volleyball matches. Running at the state-of-the-art Edmonton EXPO Centre, the 14UB-18U events will consist of three separate tournaments with an estimated 1,250 teams.
The 2024 14U Nationals will kick off once again in Ottawa, Ontario, in conjunction with Fredericton, New Brunswick from May 3 to 5. This will be followed by an action-packed weekend from May 9 to 12 with Richmond, British Columbia 14U Girls and Edmonton, Alberta hosting the 14U Boys May 16-18.
"Volleyball Canada is thrilled to be returning to Edmonton for the 2024 Youth Nationals," said Sandra de Graaff, Director of Domestic Competitions for Volleyball Canada. "With four eager host cities, we are excited to offer a one-of-a-kind Nationals experience."
Once again, Volleyball Canada thanks its many local partners, including Explore Edmonton.
"Explore Edmonton is so proud to be able to bring this incredible event back to our Edmonton EXPO Centre," said Janelle Janis, Executive Director, Event and Business Development for Explore Edmonton. "Not only is it so special to bring so many athletes together under the same roof, but the 2024 Volleyball Canada National Championship provides a substantial economic boost to our city, with a projected total economic impact of $41 million."
Also being hosted in 2024 will be the Senior National Championships. More details on the Senior Nationals will be released at a later date.
Volleyball Canada recently wrapped up the 2023 Nationals, recording the largest turnout in Nationals history with 1,256 teams competing and over 12,500 players in attendance teams across the six locations of Ottawa, Edmonton, Calgary, Winnipeg, Halifax, Regina.
Details on Nationals registration will be released in the coming months.
2024 Nationals Dates & Locations
May 3 – 5:
Ottawa, Ontario, 14U – Carleton University
Fredericton, New Brunswick, 14U – Harvey Grant Centre
May 9 – 12:
Richmond, British Columbia, 14U Girls – Richmond Olympic Oval
May 15 – 26:
Edmonton, Alberta, 14U Boys, 15U, 16U, 17U, 18U – Edmonton EXPO Centre
For more information, please see the 2024 Nationals webpage and to receive the latest Nationals updates right to your inbox, subscribe to the Nationals Newsletter.
Announcement Video: https://youtu.be/kkbe2J3Iyw8
Volleyball Canada Nationals contact: nationals@volleyball.ca