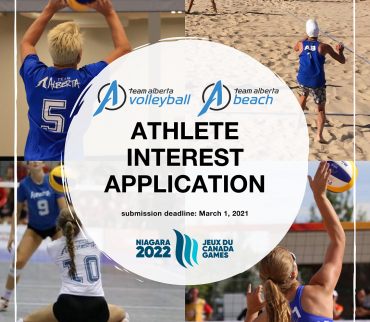 Posted: February 16, 2021
If you are a high performance athlete interested in being selected to Team Alberta and attending the 2022 Canada Summer Games please complete the Athlete Interest Application Form. This will assist the coaching staff with scouting, identifying and then inviting athletes to selection camps. 2021 programs have not been confirmed at this time.
• Indoor athletes born in 2003 and 2004
• Beach athletes born in 2001 and 2002
The Canada Summer Games will be held in the Niagara Region, August 6- 21. Indoor will be held in week 2, with beach in week 1. At this time the exact dates of the competitions have not been confirmed. Interested athletes must be available to train and compete in August 2022.
Please note that not all athletes who complete the application form will be invited to selection camps
Application form links are closed
Canada Games Beach Athlete Interest Form – Beach
Canada Games Indoor Athlete Interest Form – Men
Canada Games Indoor Athlete Interest Form – Women
Additional information can be found on the following program pages:
INDOOR > Team AB > Canada Games Men
INDOOR > Team AB > Canada Games Women