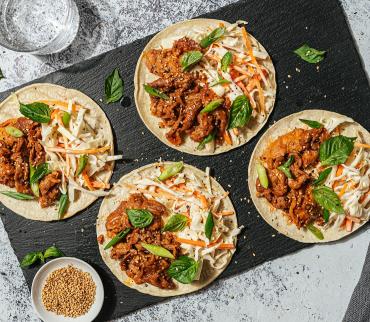 Posted: January 24, 2022
Volleyball Alberta is proud to partner with Fresh Prep to offer our members an exclusive promo code to try out a new meal kit provider. Fresh Prep has launched in Alberta with initial locations in Calgary, Edmonton, and Red Deer.
Anyone who signs up with promo code VAFRESH in the month of February will be automatically entered for a chance to win a $50 Fresh Prep gift card.
Based in Western Canada, Fresh Prep delivers convenient and sustainable solutions to everyday food problems. Fresh Prep delivers everything needed to make meals at home using fresh ingredients in 30 minutes. With a focus on sustainability, convenience, and growing the local economy, meals are affordable, diverse, and fit the needs of individuals, couples or families.
Enjoy up to 75% off your first order* and Free Delivery
*75% off applicable to new customers only on 2-person 2-meal plans, or a value of $36.75 in Fresh Prep credit for all other plans. No commitment. Cancel anytime. Flexible plans.
OR
Save $36.75 off your first Order* and Free Delivery –
*Discounts applicable to new customers only. No commitment. Cancel anytime. Flexible plans.
PROMO URL:
https://try.freshprep.ca/alberta?discount_code=vafresh will automatically apply promo code VAFRESH with the $36.75 savings code.
With easy-to-follow recipes, and pre-cut and pre-portioned ingredients, Fresh Prep takes care of the planning, shopping and prepping, so you can enjoy effortless evenings and spend less time in the kitchen and more time with family.
With the click of a few buttons, meal kits arrive at your doorstep each week, helping you get family-friendly, healthy dinners on the table in 30 minutes or less.
"Fresh Prep saved me from the 'what's for dinner headache' on those nights when I don't have a lot of time because we are running the kids around to after-school activities and sports. I'm so surprised at how great a cook I have become and that is all thanks to Fresh Prep and the easy-to-read recipes. My whole family loves them and we always look forward to a delicious dinner after a busy day." – Sara R – Fresh Prep customer
Each week Fresh Prep offers 10 meal kit recipes to select from, with options to suit most diets and lifestyles. Recipes include local, seasonal ingredients wherever possible to improve flavour and reduce environmental impact. And meals are delivered in reusable, insulated and sanitized cooler bags, rather than cardboard boxes.
On top of delicious weekly meals, Fresh Prep offers nutritious sides and snacks from Alberta local businesses to keep your family fueled all day long.