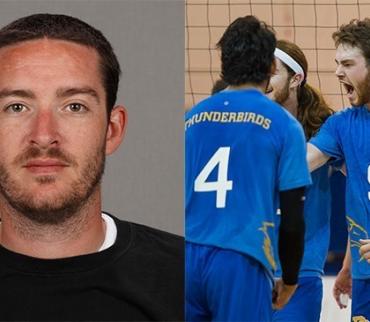 Congratulations to former Volleyball Alberta Staff Member Kerry MaDonald on his new position as Head Coach with the UBC Thunderbirds Men's Volleyball Program!
With files from UBC Thunderbirds
VANCOUVER – The UBC men's volleyball team has a new head coach whose resume includes both a CIS National Championship and experience within Canada's national team system. Kerry MacDonald has been announced as the new bench boss for the UBC Thunderbirds and will begin head coaching duties July 1st.

MacDonald is a long-time assistant coach and consultant for the Calgary Dinos men's volleyball program and was integral in the Dinos' 2010 CIS National Championship. He has been an assistant with both the National Teams' Full Time training Centre and the Youth National Team program. MacDonald has over a decade of experience as a head coach at the club level in Alberta, winning several provincial and national titles.

"I'm absolutely excited. Having been an assistant coach in the CIS for many years I'm thrilled to make that transition to the head coaching side," says MacDonald. "I've coached against the Thunderbirds for a number of years. They're known as a really tough defensive team and that's a tradition I want to continue. I want to bring my experiences from the University of Calgary and Volleyball Canada and combine that with what is a great core of players and some great young talent coming in."

MacDonald's knowledge and passion for the game draws praise from Team Canada's head coach. "Congratulations to Kerry on being named to the position of head coach of UBC Thunderbirds men's volleyball. The university system is so important to volleyball in Canada, and I'm very pleased to see Kerry as an integral part of the system in the West, " says Canadian National Men's Volleyball head coach Glen Hoag. "I've known Kerry for many years, and have witnessed him develop as a coach and as a key contributor to many aspects of our sport in Canada. I'm confident he will be a huge asset to the program. Best of luck to Kerry and I look forward to working together to continue to strengthen our sport in Canada."

MacDonald is currently studying for his PhD in Sports Injury Prevention and feels the knowledge he's attained in the field will serve his new players and the program well. "I really like to integrate science within our indoor training. I want UBC to train not only hard but smart. To not only maximize our performance, but also minimize our injuries."

The hiring of MacDonald ends an extensive search by the UBC Athletics program. The Thunderbirds believe MacDonald is the man to add to the three national and five conference championships in the program's history and attract top talent to UBC.
"We are thrilled to have Kerry MacDonald as our new men's volleyball head coach. Kerry has a broad range of coaching experience within the CIS, Volleyball Canada, and at the club level. His connections at all levels will give him the ability to recruit top-level Canadian student-athletes to stay in Canada for their university volleyball careers," says Gord Hopper, UBC Athletics Director of Performance and Team Support. "Kerry has an excellent background in sports science which will give UBC a competitive edge in supporting our student athletes with the best training and competition environment."
MacDonald joins a UBC coaching staff that includes veteran assistant coach Matt Lebourdais. "I'd like to thank Assistant Coach Matt Lebourdais for managing the team and it's training the these last couple months," say MacDonald. "I really look forward to working with him moving into the 2016 season."
The move to the Point Grey campus is somewhat of a homecoming for MacDonald, who was born in Revelstoke, B.C. Accompanying UBC's new head coach in his move out west will be his wife and young daughter.