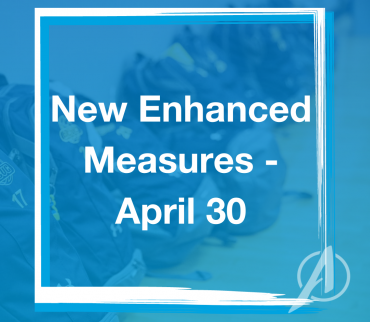 Updated: May 4, 2021
The Government of Alberta has announced New Enhanced Measures effective Friday, April 30, 2021. Targeted restrictions will apply to municipalities or regions where there are at least 350 cases per 100,000 people and 250 active cases. These restrictions will remain in place for two weeks, or until the region falls back below the case threshold – whichever is longer. You can see the number of active cases and rate of active cases in your region on the following webpage.
Indoor Sport and Recreation Activities
All youth and adult indoor sport, including team sports, group physical activities, recreation and one-on-one training sessions, are prohibited.
This applies to all youth activities, including for students still learning in classrooms.
All indoor recreation facilities must close.
Outdoor recreation amenities can be open to public access unless specifically closed by public health order.
Outdoor sport and recreation activities may continue under province-wide restrictions currently in place:
– Outdoor team sports where two-metre distancing cannot be maintained at all times (such as basketball, volleyball, soccer, football, slo-pitch and road hockey) remain prohibited.
– Outdoor fitness training is allowed, as are physically distanced group fitness classes with a maximum of 10 participants.
– Outdoor group physical activity with different households must be limited to 10 people or fewer and two-metre distancing must be maintained at all times.
Indoor Fitness
All indoor fitness activities are prohibited. This includes:
– Group physical activities, such as team sports, fitness classes and training sessions.
– One-on-one lessons and training activities.
– Practices, training and games.
Outdoor fitness activities may continue if all other province wide restrictions and safety measures are followed.
Current Hot Spot Regions
| Region | Active case rate* | Active cases |
| --- | --- | --- |
| Fort McMurray | 1835.8 | 1458 |
| Red Deer | 811.1 | 863 |
| Okotoks | 704.2 | 251 |
| Airdrie | 657.6 | 474 |
| Grande Prairie | 626.3 | 465 |
| Calgary | 577.1 | 7888 |
| Rocky View County | 560.6 | 251 |
| Lethbridge | 449.1 | 452 |
| Strathcona County | 424.1 | 421 |
| Edmonton | 408.1 | 4236 |
| St. Albert | 388 | 270 |