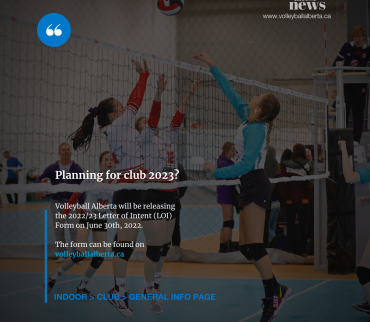 Posted: June 30, 2022
Volleyball Alberta will be releasing the 2022/23 Letter of Intent (LOI) Form on June 30th, 2022. For more information on the LOI Rationale, Seasons of Play, Process, Penalty for Breach, the forms, and additional Q&As, please visit volleyballalberta.ca > INDOOR > Club > General Info page:
https://www.volleyballalberta.ca/club_general_info
NEW: Document: Signing Process – Letter of Intent (LOI) Rationale + FAQ Document
NEW: Form: Letter of Intent (LOI) Form (formerly: Early Signing Form, Tryout Signing Form)
Over the next three months, Volleyball Alberta will be doing a lot of its planning for the 2022/23 indoor club season. We are currently working on the season planner and new for 2023 documents. We will post latest news story updates as they are ready to be released.
Volleyball Alberta only recognizes signed LOI's during August and the Tryout Period. Verbal commitments are not recognized or official.