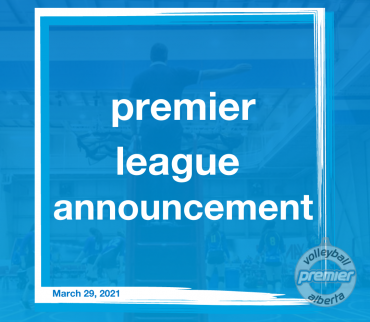 Posted: March 29, 2021
With the Government of Alberta remaining in Step 2 of "The Path Forward", Volleyball Alberta will be unable to offer our eight-week Premier Leagues that were scheduled to start April 24. Volleyball Alberta will continue to adapt to restrictions and adjust our offerings to create as many opportunities for athletes as possible.
Recent feedback from Club Presidents indicated that there would be interest in modifying the eight-week Premier League into a six-week Premier League beginning in May (provided restrictions will permit) and running until June 13. To further develop this six-week option, Volleyball Alberta requires an accurate number of participating teams.
Teams currently registered in our eight-week Premier League have the following options
• Request a refund of their deposit minus the administration fee ($35). Refund requests must be received by email on April 7th @ 3pm. Please send refund request emails to Ray Sewell: rsewell@volleyballalberta.ca
• Show interest in the six-week Premier League by TAKING NO ACTION. By not submitting a refund request by the deadline, teams will automatically remain registered for the six-week League
• 13U teams who are interested in participating in the six-week league should email Ray Sewell: rsewell@volleyballalberta.ca by April 7th @ 3pm
• Volleyball Alberta will update our membership with the six-week timelines shortly after the refund request deadline.
Regardless of participation in the Premier Leagues, we encourage all teams to continue to train and provide volleyball activity under the current guidelines.
For the potentially quicker return to our sport, and more importantly for your health and safety, please continue to follow the guidelines.