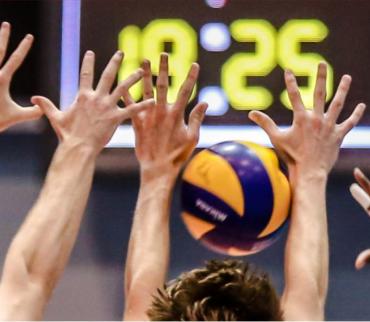 Posted: March 17, 2021
by Volleyball Canada
March 15, 2021: 2021 Team Canada U19 men's program details have been finalized, including the virtual identification process.
After a successful virtual program in 2020 and a challenging 2020-2021 high school and club season, the identification process will provide any youth male athletes, born in 2003 or later the opportunity to upload their profile, highlight video and physical testing data for review by the Team Canada U19 Men selection committee.
Led by coach Mike Hawkins (BC), the program will be a combination of online and in-person training with the top 28 athletes in Canada.
"Given the reality of last year in sport, it is imperative that we bring athletes together in a high-performance environment and resume our commitment to build the next generation of senior national team athletes," explains Dawna Sales, Director of Athlete and Coach Pathways.
The identification process will be hosted by GMTM, which enables athletes to create an account and upload their profile, physical testing data, and highlight/skill video. The platform allows every interested athlete, regardless of location, to be part of the identification system in Canada.
The program will start with virtual programming in May through to June with in-person training currently scheduled for July 5-July 17, 2021 in Vancouver. Volleyball Canada is committed to ensuring the safety of our athletes and coaches and will adhere to all restrictions within Canada, and specifically within BC.
Volleyball Canada will be hosting a webinar on Wednesday, March 31 at 4 pm PST to provide further program details, including identification and training overview. Register HERE*Limited spaces available, recording will be posted for general public.
The platform, GMTM, will be open until April 30, 2021 for uploads. Athletes will create their own account and can update their profile at any time. The cost is $47.50 USD.
At this time, international competition is unknown and program details are subject to change.
---
Volleyball Canada media contact:
Jackie Skender
Mobile: 613.794.7676