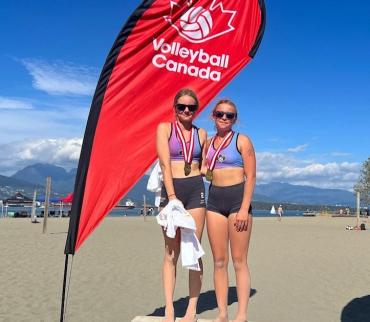 Posted: August 30, 2022
Our beach season has official come to an end. We would like to congratulate the athletes and coaches for all their hard work and dedication throughout the season! We had an amazing summer at the beach courts with all of you!
Results from the Vancouver 2022 Beach Nationals are posted and Alberta's Adriana Shaw/Esme Magus captured the top spot on the podium for the 14UG title, congratulations!
You can view the full event schedule & results online:
https://vc.bracketpal.com/tournament/4
Alberta's results summary:
14UG
Adriana Shaw/Esme Magus (1st)
Charlie Staples/Lucy Staples (4th)
Talia Hasiuk/Liza Dolgova (9th)
14UB
Kade Funk/Jacob Young (9th)
15UG
Maya Sikora/Lauren Robertson (4th)
16UG
Charlotte Anderson/Anna Timmerman (5th)
Sasha Pasloski/Ava Fontaine (5th)
Cate McLaughlin/Maria Rawlek (5th)
Great Work Teams! Go Alberta! See you all back at the beach next summer!
#VolleyballAlberta #TeamAlbertaBeach #GOAlberta #VolleyballCanada #vabeachprograms #vabeachtournaments #beachvolleyball #summeratthebeach