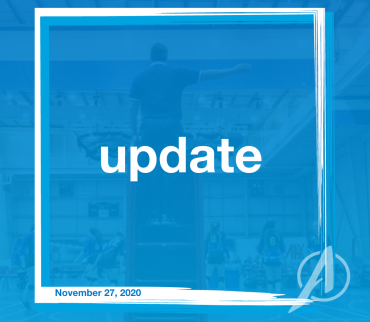 (January 21 updates in red)
The Government of Alberta has extended the mandatory public health measures in the province. These public health measures are in place to protect the health system and slow the spread of COVID-19. Considering the updated measures, Volleyball Alberta has adjusted dates pertaining to the signing process (tryout period) and our Premier Leagues (registration, start dates, etc.). Volleyball Alberta will begin the Tryout Period as soon as restrictions allow for indoor training to resume.
Volleyball Alberta will continue to monitor the Government of Alberta's guidelines and update important dates as necessary. If current restrictions are extended, Volleyball Alberta will readjust the dates considering the following situations:
Current timeline remains intact

5 weeks from the first day of tryout period to the first competition date
All dates will be shifted later

Completion of the tryout period prior to the start of the leagues
Allow physical preparation/team training prior to the start of the leagues
Round 1 of competition will be 12 matches as outlined
Round 2 competition structure/timeframe/cost may be adjusted and decreased to accommodate Volleyball Canada's National Championships
Volleyball Alberta understands the concerns of our coaches, athletes & members during these unprecedented times and want to reassure our commitment to providing a competition season. Under the current restrictions, the following adjustments to the processes & leagues have been outlined below:
Signing Process
Open Signing Period
The open signing period ended November 25, 2020 * The open signing period is extended to Dec. 16, 2020 (posted Dec 2)
Teams must register their signed athletes with Volleyball Alberta by December 16, 2020
Provided Indoor Team Sport restrictions are lifted in December, the timelines below will be applied. Appropriate updates will be made to the timelines if restrictions are extended into January.
Tryout Period – All Age Classes are Postponed
The updated Tryout Period is scheduled to begin January 22, 2021 (Tryout period will begin as soon as restrictions allow indoor training to resume)
This period will end at the completion of team selections
Tryouts should be facilitated with physical distancing to promote a healthy & safe environment for all athletes to safely participate in more than one tryout
Be mindful of the number of athletes attending so physical distancing can be properly managed at tryouts and facility occupancy guidelines are met
Premier League Registration (Dates below will be adjusted when the New Tryout Period is announced)
14U-18U – Round 1 Registration
Registration deadline is Monday, February 1, 2021 @ 2:00pm
13U – Round 1 Registration
Registration will open Monday, January 25, 2021 @ 2:00pm
Registration deadline is Monday, February 8, 2021 @ 2:00pm
Round 2 Registration
Registration will open Monday, March 8, 2021 @ 2:00pm
Registration deadline is Monday, March 15, 2021 @ 2:00pm
Premier League Timeframe (Dates below will be adjusted when the New Tryout Period is announced)
Premier League – Round 1
First competition day will be Saturday, February 27, 2021
Last competition day will be Sunday, April 18, 2021
Premier League – Round 2
First competition day will be Saturday, April 24, 2021
Last competition day will be Sunday, May 23, 2021*
*Round 2 competition structure/timeframe/cost may be adjusted and decreased to accommodate Volleyball Canada's National Championships
Signing Process
(Dates to be adjusted to the new Tryout Period start)
Activity
Start Date
End Date
Open Signing Period
November 15, 2020
November 25, 2020
Administrative Time
November 26, 2020
November 28, 2020
Open Signing Period Extended
December 2, 2020
December 16, 2020
Tryout Period
TBA
Completion of team selections
Premier League Registration
(Dates to be adjusted to the new Tryout Period start)
Activity
Opening Date
Deadline/Cancellation Date
14U – 18U Round 1
November 16, 2020 @ 2:00pm
February 1, 2021 @ 2:00pm
13U Round 1
January 25, 2021 @ 2:00pm
February 8, 2021 @ 2:00pm
13U – 18U Round 2
March 8, 2021 @ 2:00pm
March 15, 2021 @ 2:00pm
Premier League Timeline
(Dates to be adjusted to the new Tryout Period start)
Activity
First Competition Date
Last Competition Date
13U – 18U Round 1
February 27, 2021
April 18, 2021
13U – 18U Round 2
April 24, 2021
May 23, 2021
* Round 2 competition structure/timeframe/cost may be adjusted and decreased to accommodate Volleyball Canada's National Championships