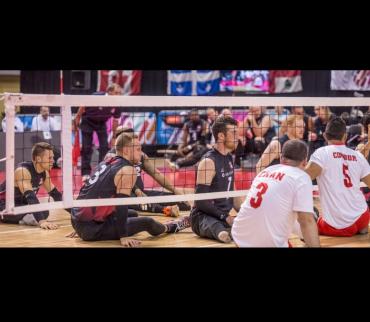 Introduction to Sitting Volleyball Coaching Workshop
Volleyball Alberta and the Junior Varsity Centre, with support from the Canadian Paralympic Committee, have partnered to offer an Introduction to Sitting Volleyball Coaching Workshop in Calgary.
This two – hour workshop is designed to introduce volleyball coaches to the techniques and tactics specific to sitting volleyball and discuss the international trends in the game. Registered coaches will be eligible to receive two NCCP Professional Development points upon completion of the workshop.
The workshop will be facilitated by Ian Halliday, former High-Performance Director for Sitting Volleyball with Volleyball Canada.
Date: March 8, 2019
Time: 6:00pm – 8:00pm
Location: Calgary, AB
Venue: Junior Varsity Centre (#130, 10 Smed Lane S.E, Calgary, AB)
Cost: FREE!
Registration is now open. Participants must register using their Volleyball Canada Coaching Centre account. If you do not have an account, you will be prompted to create one prior to registering.
Registration Deadline: Friday, March 8, 2019 at 12:00PM MST
Workshop Notes: Participants should bring writing materials and prepare to be active on-court throughout the workshop. An email with further details will be sent to all registrants with more information regarding the workshop.
For more information about the upcoming workshop, please contact:
Ian Halliday
Coach Development Manager, Volleyball Alberta
Email: ihalliday@volleyballalberta.ca
Phone: 403-727-3705
JVC Sitting Volleyball Series
Sitting Volleyball for Everyone!
The Junior Varsity Centre in partnership with current Team Canada member, Jesse Ward, is pleased to present the Calgary community with an opportunity for able-bodied and athletes with a physical impairment to be introduced to the sport of sitting volleyball.
During 8 weeks of on-court sessions, participants will receive coaching from current Canadian National Team athlete, Jesse Ward, learning the basics of the game and strategy of gameplay. The goals of the program are to inspire athletes to grow the game and remove any barriers that individuals have in the sport of volleyball. This is an exciting and inclusive opportunity to anyone who wants to play!
Date: February 5, 12, 19, 26 and March 5, 12, 19, 26, 2019
Time: 5:00pm – 7:00pm
Location: Calgary, AB
Venue: Junior Varsity Centre (#130, 10 Smed Lane S.E, Calgary, AB)
Cost: FREE!
Click here to access the registration form and reserve your spot in any of the sessions.
For more information about the JVC Sitting Volleyball Series, please email: jvcprograms@gmail.com