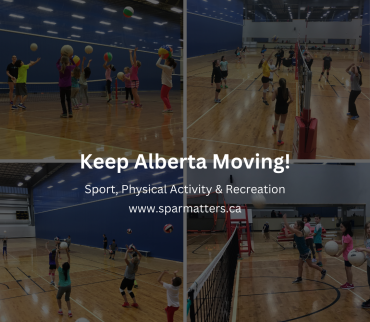 May 16, 2023
For the first time ever, the sport, physical activity and recreation (SPAR) sector has come together to provide a common voice for the provincial election advocacy. A group of SPAR leaders have been working hard behind the scenes over the past year to develop the SPAR Matters campaign which includes the Election Playbook – Keep Alberta Moving!
We know that as a sector we have a lot of work to do, but we are committed to making the changes needed t become more inclusive, more accessible, and more innovative. We believe that NOW is the point of maximum opportunity, where the Government of Alberta should seize upon the chance to unlock the potential of SPAR to help achieve our Province's Priorities.
Let's harness the power of our collective networks and make SPAR a priority this election by:
Sharing the SPAR Election Playbook: Keep Alberta Moving with your networks, friends, family, and colleagues
Send letters to your local candidates outlining the importance of investing in SPAR
Share and Like our social media posts to amplify the message on the importance of #sparmatters
Together, let's Keep Alberta Moving! Visit sparmatters.ca to learn more and to download the Election Playbook.
Help amplify the message by commenting, replying, liking, sharing, and retweeting any of the content on the ARPA social media
channels: Instagram, Facebook, Twitter, Linked In.