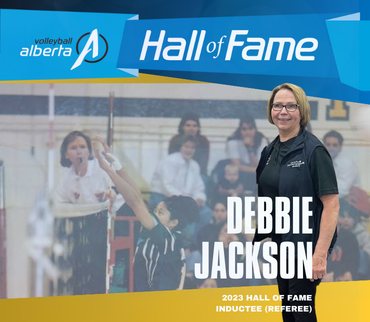 May 19, 2023
Volleyball Alberta's Hall of Fame was officially opened with the first inductions on June 12th, 2004 at the 2004 Awards Banquet in Edmonton.
The Hall of Fame awards are presented to recognize outstanding achievements in Volleyball Alberta. The awards are presented in the following 5 categories: Athlete, Team, Coach, Referee, and Builder.
Volleyball Alberta is pleased to announce that Debbie Jackson will be inducted into the Referee Category this year at the 18th Annual Volleyball Alberta Awards Banquet.
The Volleyball Alberta Awards Celebration and Hall of Fame dinner will be held this year on Saturday, June 24, 2023 in Calgary. All past Hall of Fame inductees are invited to attend to welcome and celebrate our newest inductee, Debbie Jackson, as well as recognize the yearly Mikasa Achievement award winners from our 2022 Beach season and our 2023 Indoor season.
Let's make this a Grand Reunion and a time to reconnect with friends old and new!
Please join us in congratulating Debbie for her upcoming induction into the Volleyball Alberta Hall of Fame. From all of us at Volleyball Alberta, congratulations on your well-deserved success, Debbie! We thank you for all your contributions to our sport and the referee community.
If you would like to know more about Volleyball Alberta's Hall of Fame, please visit our website:
www.volleyballalberta.ca > Leadership > Hall of Fame
Thank you,
Volleyball Alberta | Hall of Fame Selection Committee