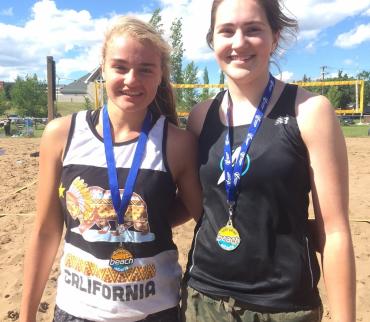 The 2017 Team Alberta Beach Provincial Teams were selected over the first two weekends in June. Athletes in the 16U and 18U age classes were selected as well as the teams who will represent Alberta at the Canada Summer Games.
The Canada Games selection was held in Toronto. The athletes participated in training with Team Ontario and played in two OVA beach tournaments. The athletes selected for the Canada Games are:
Women: Kate Pexman/Olivia Furlan (alternate: Tessa Hill) Coach: Raynell Prince
Men: Brendan Vanderlinde/Matt Saly (alternate: Duncan McDonald) Coach: Zach Brown
The Beach Provincial Team selections were held in Calgary and after two days of training in the sun, wind, and rain the following athletes were selected:
16U Men (Coach: Russ Lawrence)
Carson Brennan/Callum Campbell
Jack Cochran/Taylor Dobson
Cole Florence/Lukas Humle
Josh Gagnon/Max Turgeon
16U Women (Coach: Ray Sewell)
Trinity Solecki/Jordan Lapins
Sarah Heupel/Avery Kelly
Michela Alongi/Michelle Deng
Edyn Aasman/Kylie Morrison
Anna Wittenberg/Emileigh Inglis
18U Men (Coach: Ben Ernewein)
Sam Elgert/Shae McIntyre
Dominic Losier/Aiden McIntyre
18U Women (Coach: Milou Saxton)
Emma Holmes/Delilah Gow
Kenzie Vaandering/Journey Flewell
Dora Komlodi/Grace McKale
The Beach Provincial Team will train in Calgary August 1-4 and participate in the provincial championship after that from the 5-6. They will travel to Toronto and train with Team Ontario and then make their way to Ottawa to play in Volleyball Canada's Youth Beach Nationals August 18-20.
Thank you to all the athletes and coaches who attended the weekend camps!