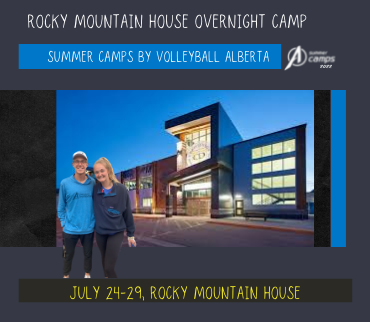 Posted: June 2, 2022
The Rocky Mountain House Volleyball Camp run by Volleyball Alberta will be a 5 night sleepaway camp in the town of Rocky Mountain House! The days will be filled with opportunities to connect with other campers and coaches, while learning new volleyball skills. The coaching staff range from Pro volleyball players, high level college and Usport players, as well as emerging athletes with a huge passion for volleyball.
July 24-29 at the Rocky Regional Recreation Facility! Mark your calendars, registration closes July 9th @ 11:59pm. Spots are limited!
Located in the the beautiful town of Rocky Mountain House with the North Saskatchewan River bordering it. RMVC will provide one of the best overnight volleyball camp experience that Western Canada has to offer. This developmental camp spans 6 days with an emphasis on the basic skills and fitness levels for all athletes. Each day is scheduled with approximately 6 hours of on-court instruction, 3 hours of game play, fitness activities, and classroom lectures. Every day, all campers will be playing on outdoor grass courts. A great way to spend a week of your summer outdoor playing grass volleyball! While having some of the provinces top coaches and post secondary athletes lead the way to ensure each and every athlete has a week they will never forget.
Facilities – RMVC will be taking place at Rocky Mountain House's new stunning facility the Rocky Regional Rec Centre and the surrounding fields! This ensures that all athletes and coaches will be a short walking distance to any court at any time needed!
**Detailed Information packages will be emailed to participants 2 weeks prior to Camps commencement.
For more information and links to register, go to: https://www.volleyballalberta.ca/volleyball-ab-camps