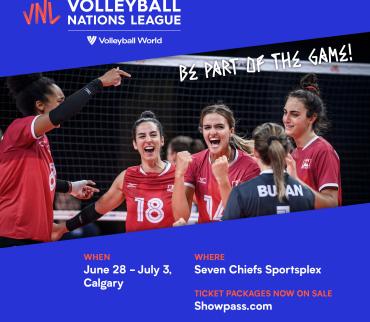 Posted: March 23, 2022
This year Volleyball Nations League is bigger – with twice as many teams and matches over six days instead of three. With the extended event, Volleyball Canada is in need of more volunteers than ever before to ensure its success. This is a great opportunity to participate in an exciting international event.
A variety of volunteer positions are available. Click here to view the event website.
Registration for volunteers is now open.
If you have any questions, contact Sandra Lamb at slamb@volleyball.ca.
Event Dates: June 28 – July 3, 2022, in Calgary
See you there!! *There will be a volunteer information session Monday, June 27 in the evening. Attendance at this session is mandatory for Field of Play volunteers – on-court training will be provided. It is strongly suggested that all other volunteers also attend for a briefing on the requirements of their position.*