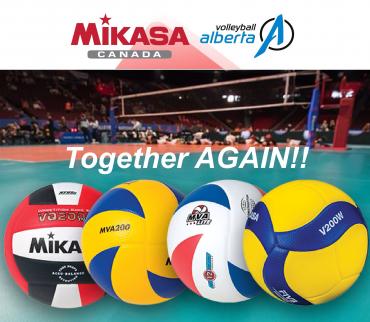 Volleyball Alberta Extends Partnership With Mikasa Canada For Another 5 Years!
Volleyball Alberta and Mikasa Canada are proud to extend their partnership, making Mikasa the exclusive volleyball & beach volleyball supplier for Volleyball Alberta. The agreement extends effective immediately and runs through to 2024. Mikasa is currently the official supplier of volleyball for the FIVB, the 2020 Summer Olympic Games, Volleyball Canada, U Sports, as well as numerous Canadian and International organizations.
"We are honoured to have the opportunity to extend our partnership with Mikasa Canada. By extending our great relationship for the next five years, our athletes will continue to be able to play with the best volleyballs available. From Volleyball Alberta programs, to Volleyball Canada championships, to FIVB events, Mikasa volleyballs lead the way."
~ Says Terry Gagnon, Executive Director, Volleyball Alberta
"Western Canada has always been a strong source of volleyball talent and Mikasa is proud to continue its relationship with Volleyball Alberta for another 5 years. As sports technology and technique develops, Mikasa works hand in hand with its partners to keep them in touch with the latest and highest quality products in the global marketplace to grow the sport of volleyball."
~ Says Felix Dion, owner of Catsports, and official distributor of Mikasa Canada.
The specific Mikasa volleyballs to be used for 2019-2020 Volleyball Alberta programs are as follows:
INDOOR
13U Club – Mikasa MVALITE
14U-16U Club – Mikasa VQ2000
17U/18U Club – Mikasa MVA200
OUTDOOR
Mikasa VLS300
More information about this year's competition balls: http://www.volleyballalberta.ca/node/681
About Mikasa Canada
We all have a defining moment when the sport we play becomes the sport we love, the moment the game becomes a part of who we are. The passion and desire from that point is embedded in our spirit to achieve and compete at the highest level possible. Every morning practice, every ounce of sweat spilled defines who we are as athletes striving for the ultimate goal of championships and golden cups.
This focus on the game is the driving force behind Mikasa Canada. What's your game? Our game is supplying you with the highest quality equipment, and we'll prove it right here.
For more on Mikasa Canada: https://www.mikasasports.ca/en/