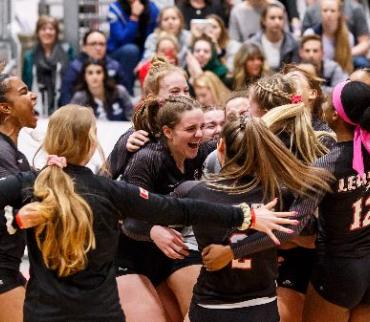 Posted: July 19, 2021
Release
Volleyball Canada announces 2022 Nationals dates
July 19, 2021: Volleyball Canada is excited to announce the dates and locations for the 2022 National Championships, highlighted by a return to the festival-style event in Edmonton, Alberta.
From May 18 to 24, 2022, Edmonton will host the 15U to 18U age categories at the Edmonton Expo Centre, as seen in 2018. Based on early projections, Volleyball Canada anticipates over 800 teams gathering for the tournament.
"Explore Edmonton is ready to welcome major national sporting events like the 2022 Volleyball Canada National Championships that will support the post-COVID economic recovery of our region," said Maggie Davison, Interim CEO, Explore Edmonton. "As more than 30,000 athletes and fans descend upon Edmonton from May 18-24, 2022, our team at Edmonton Events and the Edmonton EXPO Centre are prepared to deliver on our reputation as a premier sport event hosting destination."
The 2022 Nationals will kick off in Ottawa, Ontario, May 5 to 8, 2022 for 14U. This will be followed by three more 14U events the following weekend, May 12 to 15, in Richmond and Burnaby, British Columbia and Halifax, Nova Scotia. Ottawa and Halifax will both host boys and girls, with Richmond holding the girls' tournament and Burnaby seeing the boys in action.
The Richmond event will take place in the Richmond Olympic Oval, the same venue as the Women's National Team training centre.
"With the cancellation of the last two Indoor Nationals, including the festival event in 2020, we are thrilled to bring this tournament back to Edmonton," said Sandra de Graaff, director of domestic events. "We are excited to be planning our return to the Expo Centre and getting back on the court with participants from across Canada in a safe, competitive environment."
Also being hosted in Edmonton is the new Senior Nationals, being held May 14 to 15. Originally planned to debut in 2021 in Gatineau, Quebec, this event was also cancelled due to the pandemic.
"It's been a challenging time for sport," de Graaff said. "We're looking forward to celebrating the sport of volleyball in 2022 and bringing together the volleyball community in one of Canada's premier amateur sport competitions."
Volleyball Canada will continue following provincial restrictions and guidelines, ensuring that the health and safety of athletes and participants is the priority for all events.
Details on registration will be released at a later date.
2022 Nationals Dates and Locations
May 5-8:
Ottawa, ON – 14U girls and boys
May 12-15:
Richmond, BC – 14U girls
Burnaby, BC – 14U boys
Halifax, NS – 14U girls and boys
May 14-15:
Edmonton, AB – Senior Nationals
May 18-21:
Edmonton, AB – 15U and 17U girls and boys
May 21-24:
Edmonton, AB – 16U and 18U girls and boys
For more information, please see the 2022 Nationals webpages:
Volleyball Canada Nationals Contact: nationals@volleyball.ca