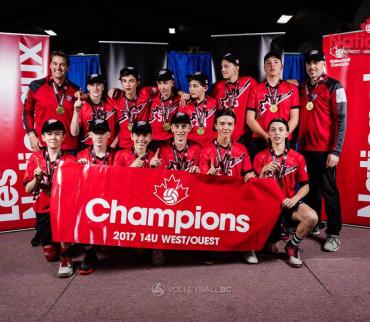 2017 Volleyball Canada Nationals -Alberta Results
An exciting month of May has wrapped up! We had quite a number of Alberta teams competing in Volleyball Canada Nationals for the various age categories. This year's Nationals has been the largest till date with a total of 929 teams (680 Girls & 249 Boys). This leads into the Mega- Nationals event next year in Edmonton at the Edmonton Expo Centre at Northlands.
A big THANK YOU to all our athletes, coaches, volunteers, supporters, and venue staff for all their hard work during Premiers, Provincials and Nationals.
Congratulations to the following Alberta medal winners:
17/18U Girls (Edmonton)
17U Div 2 Tier 2 Gold: Lethbridge Flare
17U Div 3 Tier 1 Gold: PVC Storm
17U Div 3 Tier 1 Silver: NOOKS
17U Div 3 Tier 2 Gold: Momentum
17U Div 3 Tier 3 Gold: EAVC
17U Div 3 Tier 3 Silver: Leduc County Storm
18U Div 1 Tier 3 Gold: Pandas
18U Div 1 Tier 3 Silver: Dinos
18U Div 1 Tier 4 Gold: Panthers
18U Div 1 Tier 4 Silver: Canuck
18U Div 2 Tier 1 Gold: EKVC Avalanche
18U Div 2 Tier 1 Silver: Central Peace Panthers
18U Div 2 Tier 1 Bronze: 403 Selects
18U Div 2 Tier 2 Gold: SLVC Wave Black
18U Div 3 Tier 2 Gold: Rebels
18U Div 3 Tier 2 Silver: EVC
18U Div 3 Tier 3 Gold: TSAVC Calgary
18U Div 3 Tier 4 Silver: SLVC Wave Blue
17/18U Boys (Saskatoon)
17U Div 1 Tier 1 Gold: Nooks
17U Divi 1 Tier 3 Gold: Wolves
17U Div 1 Tier 3 Silver: Kings
16U West Open (Calgary)
16U Boys
Div 1 Tier 1 Bronze: Canuck Red
Div 1 Tier 3 Silver: FOG Black
Div 2 Tier 1 Silver: SAS VC
Div 2 Tier 2 Gold: EKVC Avalanche
Div 2 Tier 3 Gold: FOG Red
Div 2 Tier 3 Silver: Rhinos
16U Girls
Div 1 Tier 4 Silver: 403 Selects
Div 2 Tier 1 Gold: Lethbridge Flare
Div 2 Tier 2 Silver: Ravens Team
Div 2 Tier 4 Gold: Fort McMurray Thunder
Div 3 Tier 1 Bronze: Ponoka Warriors
Di 3 Tier 3 Gold: ACVC Reign
Div 3 Tier 4 Gold: SAS Volleyball
Div 3 Tier 4 Silver: Killam Spartans
15U West (Regina)
15U Boys
Tier 1 Gold: FOG Black
Tier 1 Silver: Canuck Black
Tier 3 Gold: NAVC Griffins Black
Tier 3 Silver: LVC Elite
15U Girls
Div 1 Tier 1 Gold: SPVC Blizzard
Div 1 Tier 1 Silver: 403 Selects
Div 1 Tier 2 Silver: EKVC Avalanche
Div 1 Tier 3 Gold: Dinos
Div 1 Tier 3 Silver: NAVC Griffins Black
Div 2 Tier 2 Silver: NAVC Griffins Maroon
Div 2 Tier 3 Gold: Canuck Red
Div 2 Tier 4 Gold: SAVC Boom
Div 2 Tier 4 Silver: ACE of Diamonds Red
Div 3 Tier 2 Silver: Rebels
14U West (Abbotsford, BC)
14U Boys
Div 1 Tier 1 Gold: Canuck Red
Div 1 Tier 2 Gold: NAVC Griffins Black
Div 1 Tier 3 Gold: Hitmen
Div 1 Tier 3 Silver: Canada West
14U Girls
Div 1 Tier 4 Gold: Aces
Div 1 Tier 4 Silver: Canuck Pulse
Div 2 Tier 2 Silver: Rhinos
Div 2 Tier 3 Gold: Nooks
Div 3 Tier 2 Gold: Fog Rox White
Div 3 Tier 2 Silver: Fort McMurray Thunder