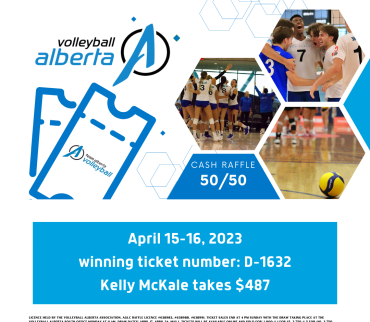 Posted: April 17, 2023
Congratulations Kelly McKale on winning Volleyball Alberta's April 15-16, 2023 50/50 cash raffle!
Winning ticket number: D-1632
Winner takes $487
The draw took place at the Volleyball Alberta South office on April 17, 2023, using Rafflebox RNG.
Raffle Page: https://www.rafflebox.ca/raffle/volleyballab20230417closed
Your support of the Team Alberta program is much appreciated!
Thank you to all purchasers for your generosity!
Our next 50/50 cash raffle will be held April 22-23, 2023
12U, 17U, 18U Volleyb Allalberta Provincials are up next!!