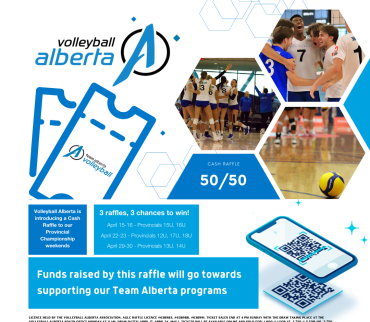 April 3, 2023
Volleyball Alberta is introducing a Cash Raffle to our Provincial Championship weekends!
To play, please scan the QR Code at your Provincial Championship venue. The on-site venue coordinator can help you find the poster to scan & play!
Funds raised by this raffle will go towards supporting our Team Alberta programs.
2023 Provincials, Raffle Dates:
April 15-16, Provincials 15U, 16U
April 22-23, Provincials 12U, 17U, 18U
April 29-30, Provincials 13U, 14U
Ticket sales open at 8 AM Saturday. Ticket sales end at 4 PM Sunday with the draw taking place at the Volleyball Alberta south office Monday at 11 AM. Draw dates: April 17, April 24, May 1. Each winner will receive a cash prize of 50% of ticket sales up to a maximum of $10,000.00.
Tickets will be available online and sold for:
1,000 @ 1 FOR $5, 3,750 @ 5 FOR $10, 3,750 @ 15 FOR $20, 2,500 @ 50 FOR $50
The draws will be held on Mondays at 11:00 AM following each provincials weekend.
The winner will be determined by using rafflebox rng. AGLC Raffle Licence #638983, #638988. #638991.
Licence held by the Volleyball Alberta Association. Must be 18 years of age or older.
For full details and rules visit:
https://www.rafflebox.ca/raffle/volleyballab (Purchase Tickets HERE)
TICKETS ONLY SOLD IN ALBERTA: geo-location services from the user's device will be used to determine that the purchaser is indeed in the province of Alberta at the time of purchase. Purchasers will need to ensure that their location services are enabled in order for the transaction to work.
Geo-location:
-The following will appear when the purchaser selects 'Purchase Tickets':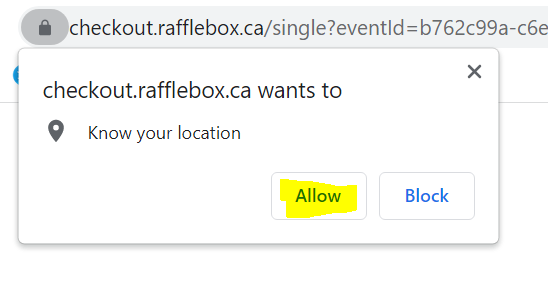 -The purchaser must select Allow. Once selected they will be taken to the purchase screen where they enter their details.
-If the purchaser selects Block, the transaction will be stopped there and they will be taken to a screen that tells them we were unable to determine their location and therefore they cannot purchase tickets.
-Should their geo location be turned off, it can be re-enabled again with the steps below.
-Please note location services relies on a verification based on the user's internet service provider's location. Some mobile data providers may be providing internet connections from an out of province source that will not register the device as located in province. If this occurs please try switching the device from mobile data to a local Wifi connection.
Google Chrome
On your computer, open Chrome.
At the top right, click More > Settings.
Under "Privacy and security," click Site settings.
Click Location.
Turn Ask before accessing on or off.
Microsoft Edge
Go to Start > Settings > Privacy > Location.
Turn on Allow access to location on this device.
Turn on Allow apps to access your location.
Turn on Allow desktop apps to access your location if present.
Safari
Open your iOS's Settings app.
Tap [Privacy] > [Location Services] > [Safari Websites]
Tap [Allow Location Access] > Set to [While Using the App]