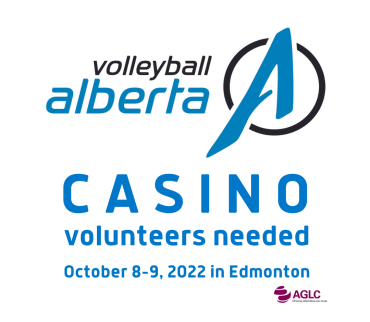 Posted: August 11, 2022
Casino volunteers needed for the 2022 Volleyball Alberta Casino
Volleyball Alberta has been slotted to host a casino on October 8-9, 2022 in Edmonton at the Starlight (WEM) Casino. In past cycles, VA's Executive Council, Board of Directors, Committee Members, Referees, Club Members and VA Staff have been very gracious in offering some time to help with this program and I am wondering if once again some of you may be available to working a shift or two. If you live outside of Edmonton but may know someone in the area that could work a shift, please forward them this information.
This is a first call for Volunteers, we are now within 60-day of our upcoming casino, and I hope to have all positions filled by September 15th.
Included in the "sign up link" is a schedule indicating positions, shifts and availability. Please sign up today!
The 2022 Volleyball Alberta Casino details are as follows:
When? Saturday, October 8 AND Sunday, October 9, 2022
We would be most grateful if you could pick up a shift or two at our casino fundraiser this Thanksgiving long weekend!
Where? Starlight Casino, West Edmonton Mall (WEM): 8882 170 St NW #2710, Edmonton, AB T5T 3J7
Times? The Starlight (WEM) Casino is open from 11am – 3am.
Shifts: We need 18 Adults to work both days.
10:15am – 6:30pm General Manager (1), Banker (1)
10:30am – 7:00pm Cashier (2), Chip Runner (1)
___________________________________________
6:15pm – 3:45am General Manager (1), Banker (1)
6:30pm – 3:15am Cashier (2), Chip Runner (2)
___________________________________________
11:30pm – 3:30am Count Room Supervisor (1)
11:30pm – 3:30am Count Room (6)
Organizer: Volleyball Alberta's Membership Services Coordinator, Julie Noel.
Contact: Email: info@volleyballalberta.ca Phone: 780-415-1703 ext 1
If you are interested in volunteering for a shift, please let me know as some of the key positions require some paperwork to be sent into AGLC prior to our casino. Volunteers working more than one shift must hold the same position. Volunteers are not allowed to gamble in any way at the Casino or consume alcohol or drugs during their two day event. Photo ID is required. Must be 18 years of age or older.
Volleyball Alberta AGLC # is 57746.
Proceeds from the casino will go to aid Volleyball Alberta premiers, provincials and other expenses as approved by the AGLC.
**You have been invited by Julie Volleyball Alberta to sign up for "Volleyball Alberta | CASINO Oct. 8-9, 2022". Please click on the button below to view the online signup sheet.**
Sign up now: click this link to sign up!
(the submit & sign up button is at the bottom of the page, under ad banner; free account, sorry for all the distracting ads!)
For additional information on Casino Licensee Terms and Conditions and to read the Volunteer position descriptions visit gain.aglc.ca > resources > GAIN Manual, volunteer positions page 175-180. It's easy, all you need to do is show up and training will be provided on-site! Our Casino Advisors and I will take care of the rest : )
Questions?
Contact : Julie
info@volleyballalberta.ca
780-415-1703 ext 1