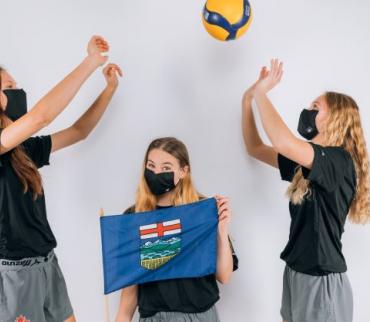 Posted: September 9, 2021
As of Saturday, September 4, 2021, the Government of Alberta has an indoor masking order that requires a person to wear a face mask at all times while attending an indoor public place.
The public health order has an exception for sport activity: "a person is not required to wear a face mask while participating in a physical activity"
For indoor volleyball:
Athletes will wear a mask at all times until they begin physical activity.
Coaches, instructors, & trainers must mask at all times except when participating in physical activity (physical exertion).
Volleyball referees, officials, scorekeepers and others supporting game play must mask at all times.
Athletes on the bench during game play must be masked (Libero is not required when being replaced, unless they are not reentering the game for an extended period)
Schools are not required to implement masking and school boards will set their own COVID-19 management policies. Therefore some schools in the province may not require individuals and visiting teams to be masked, please check with the school or school board to confirm their masking requirements.
For more information on how to facilitate the safest possible return to competition, please review our Communicable Disease Competition Guidelines.
Photo Credit: @victory – Victory Creative Group, Inc