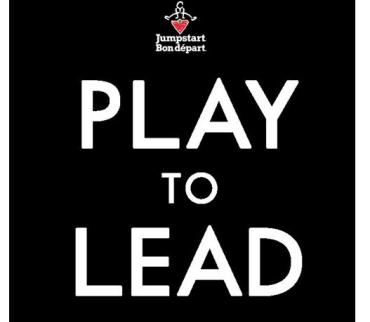 Posted: 05 June 2023
Play to Lead – Unleashing Women's Power Through Sport
Play to Lead – program focuses on enabling high-school aged female participants from low-income families to become leaders in sport and through sport, by offering participants an opportunity to:
Improve their leadership skills through interactive and experiential programming
Develop a deeper sense of belonging and confidence as young women in the sport community, by building relationships with likeminded peers, staff and mentors
Grow their network by providing access to female role models, mentors, and opportunities for growth beyond sport
This year, Play to Lead will bring together 200 female-identifying high-school athletes and their coaches to participate in a two day, in-person leadership Summit and continuing online program. Our newly expanded program will be hosted in two cities, Toronto and Edmonton – with 100 participants joining us from each community. We hope that Jumpstart can count on your organization to support our athlete and coach recruitment efforts!
At Jumpstart, we know that equity, diversity, and inclusion result in better sport for all. This is why we are proud to fund all costs associated with participating in Play to Lead, advancing Jumpstart's efforts to remove financial barriers to sport and recreation. We hope to offer this unique opportunity for leadership development to as many young female athletes in financial need as possible. As leaders in the community, we hope your organization will help us do exactly that!
WHO IS ELIGIBLE TO APPLY?
Athletes:
Young women, enrolled in grade 9 & 12 for the 2023/24 school year
Committed to participate in the full duration of the program (Fall 2023 – Spring 2024)
Coaches:
18 years or older
Actively engaged with a sport organization in a leadership capacity
Committed to support their athlete in the full duration of the program (Fall 2023 – Spring 2024)