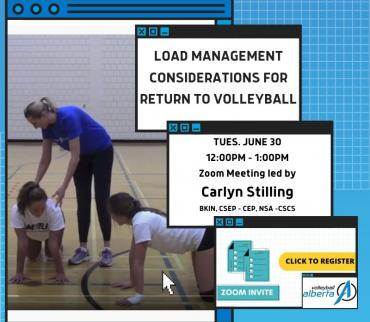 ZOOM INVITE
Volleyball Alberta Members!
Join us as we go live with Carlyn Stilling and David Gil to talk about Load Management Considerations For Return To Volleyball for athletes.
Please note there is a limited number of registrations for the live session and not all who register will be sent the zoom link if capacity is reached. Don't wait to register!
A Zoom link & additional information will be emailed Tuesday morning to the first 100 registrants.
For those who were not able to make the live presentation a recording of the session is posted on our YouTube channel.
Date: Tuesday, June 30th
Time: 12:00pm – 1:00pm
Who: Volleyball Alberta Members
Topic: Load Management Considerations For Athletes
Zoom Meeting will be led by Carlyn Stilling and David Gil.
Presenters:
Carlyn Stilling, BKIN, CSEP – CEP, NSA -CSCS click for bio
David Gil, BS, MA, Performance Lab Director, VERT about VERT