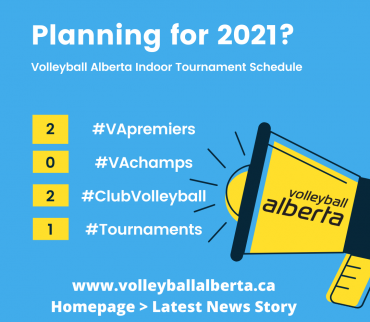 2020-2021 Club Premier Leagues
We are linking all documents and information needed to know what is being organized for the upcoming Volleyball Alberta Premier Leagues and how to plan for it on the new Club Premier Leagues page. To go to the new page click HERE (https://www.volleyballalberta.ca/node/876)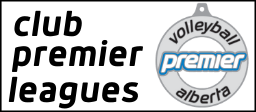 Planning for 2021?
– the schedule below has been changed.
Read the new Premier Leagues Framework document.
Please note that the 2021 Indoor Tournament Schedule is subject to change in accordance with government health and safety regulations.
With the cancellation of a significant part of the 2020 season due to the pandemic, it will be especially important to return to competition safely.
We will closely follow the advice from Alberta Public Health and adapt our competition policies and schedule accordingly.
With the help of our supportive clubs and partners across the province, we will bounce back with the health, safety and well-being of our members being our top priorities.
Volleyball Alberta hopes to run 12 Tournament weekends for our Premier & Provincial Championship series. At this time, we are not able to release a specific age-class schedule.
However, we do want to share the following dates blocked off for the 2021 Indoor Tournament Schedule (subject to change).
Important updates
November 4, 2020: We are linking all documents and information needed to know what is being organized for the upcoming Volleyball Alberta Premier Leagues and how to plan for it on the new Club Premier Leagues page. To go to the new page click HERE (https://www.volleyballalberta.ca/node/876)
July 7, 2020: 2020-2021 Membership Fees & Tournament Entry Fee update click HERE
June 20, 2020: Volleyball Alberta announces the first draft of the 2021 Indoor Tournament Schedule in the volleywire eNewsletter. Updates will be posted on this page: volleyballalberta.ca > homepage > Latest News Story > Planning for 2021? Link to volleywire eNewsletter
June 5, 2020: Volleyball Canada announces 2021 Nationals dates. Follow the link to the Volleyball Canada website for more details: volleyball.ca > competitions > National W/M > 2021 Volleyball Canada Nationals