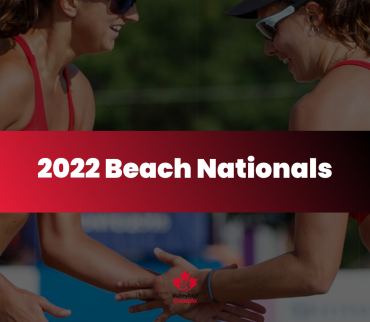 Posted: August 22, 2022
We are so happy to see so many athletes representing Alberta on the beach! We had the pleasure of following 23 Alberta teams at Beach Nationals last week in Toronto, GO Alberta! And we are proud of how the athletes represented Volleyball Alberta and our Team Alberta Beach program.
Results from the Toronto 2022 Beach Nationals are posted and four of your Alberta teams took home medals!
We are honoured to present your 2022 Beach Nationals medalists from Alberta:
14UG: Layzell/Thompson (Tier 2, 2nd )
16UG: *Isabella Hoy/Sasha Pasloski* (Tier 2, 1st)
17UB: *Brandon Burnside/Mitchell Aalbers* (1st)
18UG: Brown/Gilmour (3rd)
You can view the full event schedule & results online:
Alberta's results summary:
14UG
Layzell/Thompson (Tier 2, 2nd)
Dickhout/Roy (Tier 2, 5th)
Korzeniewski/MacPherson (Tier 2, 5th)
Choknacki/Deveaux (Tier 1, 9th)
Shaw/Davis (Tier 2, 9th)
Chondronikolis/Magus (Tier 1, 9th)
16UB
* Perrin Bazant/Mason Doering* (5th)
*Britain Ward/Ben Sullivan* (9th)
*Carter Merchant/Evan McClain* (9th)
16UG
*Isabella Hoy/Sasha Pasloski* (Tier 2, 1st)
*Averi Penner/Veronica Hmelevski* (Tier 1, 5th)
*Eva Dooks/Anna Timmerman* (Tier 1, 9th)
* Rory Bell/ Ella Layzell* (Tier 1, 9th)
*Charlotte Anderson/Katherine Li* (Tier 2, 17th)
17UB
*Brandon Burnside/Mitchell Aalbers* (1st)
Hill/John (5th)
17UG
Steacy/Landmark (4th)
18UG
Brown/Gilmour (3rd)
*Grace Baker/Grace Florence* (4th)
*Payton Bazant/Jordyn Doering* (9th)
19UB
Ellinas/Lash (4th)
SR Men
*Colby Nemeth / Jacob van Geel*
Doyle/Donaghy
** Are teams that have been training in the Team Alberta Beach program with Coaches: Grace McKale, Erik Peterson, Corey Cowper, Madison Hayley and Manager: Ray Sewell
For more info on Beach Nationals: https://volleyball.ca/en/competitions/2022-beach-nationals
For more info on Volleyball Alberta's Beach Provincial Team Program: https://www.volleyballalberta.ca/youth-team-ab
#VolleyballAlberta #TeamAlbertaBeach #GOAlberta #VolleyballCanada
14UG:
Layzell/Thompson
Tier 2, 2nd
16UG:
Isabella Hoy/Sasha Pasloski
Tier 2, 1st
17UB:
Brandon Burnside/Mitchell Aalbers
1st
18UG:
Brown/Gilmour
3rd
we are currently looking for this team photo. If you have it, please email info@volleyballalberta.ca