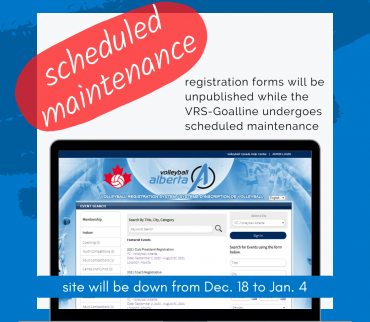 NOTICE TO MEMBERSHIP
Posted: December 11, 2020
Updated: January 4, 2020: The scheduled maintenance is now completed. VRS-Goalline link to purchase membership & registration.
RE: VRS-Goalline: Transition to Stack Pay
During the holiday break, Goalline will be transitioning all of their clients (Volleyball Alberta & Volleyball Canada included) to their new merchant processor for online registration payments called Stack Pay.
The switch is very simple, and we will be able to continue using our current VRS-Goalline registration forms and your VRS-Goalline accounts will remain the same. You will also have the same pay by credit card options. Stack Pay accepts major payment methods: AMEX, Mastercard, Visa, Discover and Debit-Visa.
Our membership should only notice three major differences:
The Stack Pay portal will be imbedded into the VRS-Goalline form to pay with a credit card on Stack Pay instead of clicking the PayPal icon to pay on PayPal.
You will only receive 1 email after completing your registration payment; The Goalline registration confirmation email that includes your registration confirmation and receipt.
You will no longer use your PayPal account to make payments.
Starting on January 4th, all Volleyball Alberta registrations and payments will be processed using the VRS-Goalline and Stack Pay.
Payments processed on Goalline-PayPal before the switch will still be refundable if needed in the new year. 
Questions?
Contact Julie info@volleyballalberta.ca